Looking after your heart: Start young
View(s):

However hackneyed the phrase maybe, 'Prevention is better than cure' is a truism when it comes to coronary artery disease, says Dr. Rohan Gunawardena 

By Kumudini Hettiarachchi
"Catch them young and teach them all about healthy lifestyles," is the urgent plea, as the toll from diseases affecting this all-important organ tragically retains its stranglehold as the No. 1 position not only in the world but also in Sri Lanka.

The heart should be looked after from the time of birth. Prevention is the need of the hour, rather than awaiting heart disease and then taking medications lifelong to keep it under control, but never being able to cure it, reiterates the President of the Sri Lanka Heart Association (SLHA), Dr. Rohan Gunawardena.

This is why the SLHA will focus on prevention of cardiovascular disease when it celebrates on Sunday, October 2, the World Heart Day which is usually commemorated by the World Heart Federation on September 29.

The events on that day are targeting to grab the attention of parents, principals, teachers and all adults so that while looking after themselves they will instil in their children and the young the vital and essential importance of a healthy diet and physical activity, MediScene understands. (See box)

Underscoring that once a person gets coronary artery disease, there is no cure, only treatment such as stenting and performing by-passes for vessel blocks and taking several medications, Dr. Gunawardena who is a Consultant Cardiac Electrophysiologist attached to the National Hospital in Colombo, says it affects that person's life, his/her work and also the lives of all his/her family members.

The statistics are an eye-opener:
For two decades, 20 long years, heart disease has been the No. 1 cause of all deaths.
40% of all deaths are due to coronary artery disease.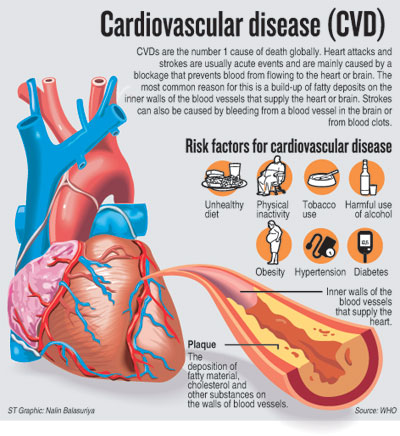 Dr. Gunawardena sends out a very strong red alert when he says that the pattern of people being affected by heart disease has changed over the last 20 years. "A majority of people being struck down by heart disease then were 50 years old or above, but gradually we have seen it hitting those between 40 and 50 and then 30 and 40. These are peak years in a person's life when he/she is the breadwinner and have young families. The other important factor is that more and more women also seem to be vulnerable to coronary artery disease."
It is an epidemic of coronary artery disease, MediScene learns.This is a major concern, says Dr. Gunawardena, adding that with non-communicable diseases (NCDs) such as cardiovascular disease and diabetes on the rise, urgent measures have to be implemented.
He then talks of risk factors, those that can be modified and those that cannot be, stressing that everyone can address the modifiable risk factors to prevent heart disease. While the risk factors that cannot be changed are genetic predisposition and gender with men more prone to heart disease than women, nearly 60-80% of coronary artery disease can and should be prevented.
The time for prevention is childhood, according to Dr. Gunawardena, for the initial lesions in the arteries start occurring then. "From the time we are born and into our early teens, depending on our lifestyle, slowly, gradually and insidiously atherosclerosis would begin to affect our arteries."
Atherosclerosis is the hardening and narrowing of the arteries due to fat being deposited on the artery walls, putting blood flow at risk, MediScene learns. This in turn is the cause not only of heart attacks and strokes but also peripheral vascular disease. When all these are put together, they are dubbed cardiovascular disease.
What keeps dumping bad fat onto the arteries as well as causing diabetes linked to excessive sugar in the blood which is also a risk factor for cardiovascular disease is bad food habits and lack of exercise. So it is very important not only for adults to have healthy eating habits and exercise regularly but also to show the way to children, he says.
Dr. Gunawardena, while conceding that parents do have a hard time attending to household chores, going to work, seeing that their children's routine of school, tuition, extracurricular activity goes on without disruption, advises them not to take the easy way out. "It is easy to buy fast food oozing with unhealthy fat and salt or full of sugar for breakfast, but try to make something at home for your child," is his earnest plea.
SLHA shows the way
Prevention of heart disease is the key. How do you do it? The Sri Lanka Heart Association (SLHA) shows the way:
Lifestyle modifications  should start early-This would include a good, safe diet which is low in calories and fat but contains all the nutrients. Avoid fast food because they are all bad and include loads of fat as they have been fried with oil used over and over again. Experiment with local cuisine, using condiments and not artificial flavour-enhancers.Explaining that earlier, tobacco companies targeted children by sponsoring sports events which has been brought to a halt, the SLHA is quick to point out that now fast food companies are indulging in this game to get children hooked on junk food and heavily-sugared drinks.Compulsorily build in an exercise slot into the daily routine –
Children usually go to school and then for tuition and when they come home they will sit in front of the TV or the computer. There is no play or outdoor activity, either at school or at home. Schools should insist that children take part in some vigorous sport, not for competitive reasons but for exercise. Obesity is raising its ugly head among schoolchildren and it is "scary" for it is associated with diabetes which increases the risk of heart disease.Cut-out the stressors of life –
Both parents and children should try to get rid of stressors in their life. For children, these stressors come in the form of examinations and peer-pressure.Avoiding the traditional risk factor – Adults should stop smoking.
Extolling the value of meditation and yoga, the SLHA reiterates that once a person is afflicted by coronary artery disease, the suffering lasts lifelong as there is no cure for rotten blood vessels, just a case of propping them up with stents.
Hackneyed it may be, but the adage, 'Prevention is better than cure' still stands true with coronary artery disease.
Marking World Heart Day
The activities linked to World Heart Day which the SLHA will celebrate on Sunday, October 2, will be kicked off by a brisk walk starting at the Vihara Maha Devi Open-air Theatre.The walk will be followed by talks on how to cook healthy and tasty food using our very own valuable indigenous food by well-known chef Publis Silva, growing our own food and exercise for both mind and body which comes in the form of yoga.
Already, to get the young ones involved, an Inter-School Poster Competition on the theme 'Power your life – through a healthy heart' has been launched.