The real truth behind Oliver Stone's biopic film 'Snowden'
View(s):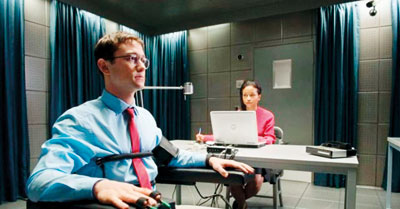 Renowned filmmaker Oliver Stone will release his latest film 'Snowden' a biopic surrounding the life of Edward Snowden an American computer professional , former Central Intelligence Agency (CIA) employee and former contractor for the United States government who copied and leaked classified information from the National Security Agency (NSA) in 2013 . Joseph Leonard Gordon-Levitt stars as the lead. The following is a look at the inaccuracies between Stone's film 'Snowden' to be released this month and the actual truth behind Edward Snowden's story.
The 4-minute theft
The movie suggests one of the events that motivated Snowden to steal NSA surveillance documents and then leak them was Director of National Security James Clapper's false testimony in which he said the NSA does "not wittingly" collect records "in any way" on American citizens. Indeed, Snowden himself has suggested this was one of his motivations. But Clapper's testimony was in March 2013, and Snowden reportedly began stealing documents as early as April 2012.
Snowden began downloading documents related to the NSA collecting information from transoceanic fiber optic cables while working as a contractor for Dell in April of 2012,according to Reuters, which cited U.S. officials and other sources. In March 2013, Snowden got a job as a systems administrator for Booz Allen Hamilton to gain better access to documents. At some point, he built a custom Web crawler to systematically scrape specific information from NSA systems while he went about his work as a computer security expert. Consequently, the film's suggestion that Snowden decided to steal documents right before he fled Hawaii for Hong Kong is clearly inaccurate. By the time Clapper testified, Snowden had already been allegedly stealing documents for 11 months and discussing his planned leak with journalist Laura Poitras for two months.
3 weeks' at the Mira Hotel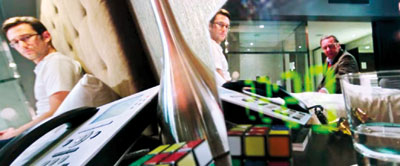 The film shows Snowden meeting with Poitras, as well as journalists Glenn Greenwald and Ewen MacAskill, in early June 2013. On June 4, the phone rings in Snowden's hotel room. Asked if he had received a call before, Snowden answers: "Not once, not in three weeks."
The line is a minor one, but it belies what is known about Snowden's stay in Hong Kong. Specifically, Snowden reportedly checked into the hotel just days before that phone call.
Edward Jay Epstein of the Wall Street Journal went to Hong Kong and found that Snowden didn't check into the Mira Hotel until June 1, despite having arrived in the Chinese special-administrative region on May 20.
"Mr. Snowden would tell Mr. Greenwald on June 3 that he had been 'holed up' in his room at the Mira Hotel from the time of his arrival in Hong Kong," Epstein reported. "But according to inquiries by Wall Street Journal reporter Te-Ping Chen, Mr. Snowden arrived there on June 1.
Epstein also cited a source familiar with the Defense Intelligence Agency report on the Snowden affair in order to report that: "U.S. investigative agencies have been unable to find any credit-card charges or hotel records indicating his whereabouts" between May 20 and June 1.
'I no longer have access to any of these files'
The Guardian published the first Snowden story, revealing a top-secret program to collect records of phone calls made by Americans, on June 5, 2013. On June 9, as the leaks captivated the world, Snowden identified himself in a YouTube video. The next day, the film shows Snowden discussing the security of the stolen files with the journalists in his hotel room.
"I no longer have access to any of these files myself," the Snowden character says after pressing a key on a laptop on June 10. "You guys have them all."
This statement is clearly false, based on an interview Snowden gave to Lana Lam of the South China Morning Post on June 12. Snowden provided Lam with information that was withheld from the American journalists.
I did not release them earlier because I don't want to simply dump huge amounts of documents without regard to their content," Snowden told Lam over encrypted chat. "I have to screen everything before releasing it to journalists."
Snowden added that he had much more information to release.
Hiding in Hong Kong and finding asylum
The movie shows Snowden spending all of his time in Hong Kong at the Mira Hotel and then, after his name becomes public on June 10, fleeing with his lawyer to the home of a poor family. He hides there until he boards a flight to Moscow with WikiLeaks adviser Sarah Harrison.
What does film leave out? The on-the-ground work by WikiLeaks to find Snowden asylum and at least three trips the American fugitive made to the building housing the Russian consulate in Hong Kong. As Snowden found a safe house in Hong Kong, WikiLeaks founder Julian Assange sent his personal assistant and girlfriend, Sarah Harrison, to find Snowden asylum outside of China. Harrison, who was in Melbourne at the time, told Vogue that Assange called her on the morning of June 10 and dispatched her "immediately and secretly to canvass foreign embassies to see which countries might be amenable to granting Snowden asylum."  A U.S. official told Epstein that CCTV cameras recorded Snowden entering the skyscraper housing the Russian consulate in Hong Kong three times in June.
Courtesy Yahoo News