Sounds like Melo
By Dilantha Dissanayake
View(s):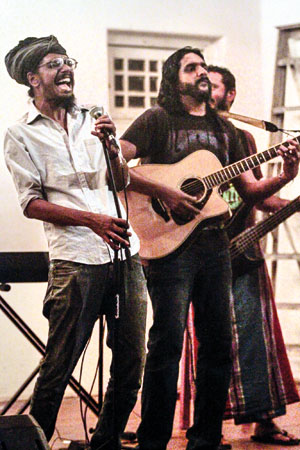 The latest edition of Melo Manic Sessions was the 26th instalment of a music project that has spanned almost 5 years in the making.
For those attendees who have had their heads in the sand or simply missed out on this remarkable music extravaganza the concept is simple. Homegrown talent showcasing their music abilities with a mixture of original written songs and covers mainly but not exclusively delivered acoustically.
The latest edition did not fail in its reputation to thrill and delight the fully packed Women's International Club hall. Which incidentally Melo have moved to for the first time since their very long stint at Park St Mews.
The line up comprised of more bands than what is usually the case for a Melo Session. The evenings at the sessions are more often than not packed with hugely talented singers and songwriters.
The opening act consisted of a very unique concept. Bernard Botejue runs Cult Studios in Dehiwella, anyone is free to drop by and jam. Out of this was born Ringmasters Jam, a collective of musician's that regularly play together and also play in other bands. The line up always changes and you may even hear just Bernard and one other musician play, yet at Melo five others joined him on stage. The vocalist gave an amazing rendition of Bob Marley's 'Get Up Stand up' was asked at the last minute when another member could not make the gig due to an illness.
What really blew the crowd away was the cast of 'Next to Normal' performing parts of the upcoming musical due to go on stage at the end of the month at the Lionel Wendt theatre. It was a truly astonishing performance by some very talented actors and singers.
The night followed with three more solo artists Jayanga Nanayakkara, Kavya Kankanamage Botejue (Bernard's wife) and Natasha Soysa. Yet all were accompanied by at least one guitarist.
Next up was a rock with slight dose of metal band, Killfeed and pop rock indie band Cynosure. Lastly but by no means least were for hugely talent and down to earth lads who make up the group Cosmogyral.
Asela Perera one of the founding members of Melo later posted online his huge admiration for the huge support they have received over the years. "A lovely night it was! We are eternally grateful to you, the faithful community, for turning up in numbers as always. We continue to be overwhelmed by the response we continue to get time and time again."
The next installment shall see Melo officially celebrate five years of producing highly palatable entertainment. If you have yet to venture to one of their nights, you will not be disappointed at their next enactment on November 5.