Reincarnation of 'Sooriya Label'
View(s):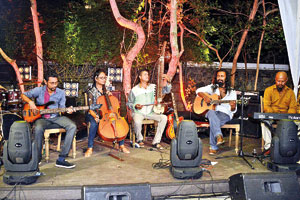 Sri Lanka's music history has recreated last week, with the opening of 'Sooriya Village', the modern day music village with the aged old name 'Sooriya Records'.
'Sooriya' is a Record Label that was founded in 1968 by Gerald Wickremesooriya and went on to become Sri Lanka's most innovative and revolutionary record label.
The company originally founded in 1959 by Gerald and Dulcie Wickremesooriya as 'The Children's Bookshop' was situated near the legendary Clock Tower in uptown Colombo Fort and drew large numbers of Sri Lankans looking for children's books and imported vinyl records.
It was only in 1968 that the label was launched and became a pioneer in the genres of Sinhala and Tamil Pop and then later went on to
reinvent genres such as traditional folk music,  traditional drum rhythms, theatre music, Sinhala light classical, children's songs, religious chants etc.
Forty eight years after the launch of the legendary 'Sooriya' label and drawing inspiration from its legendary success, recreation of the Sooriya Village, a facility that pays tribute to the founders and
musicians of the label.
Situated in the salubrious surroundings of Skelton Road in Colombo 5, the 'Sooriya Village' is the brainchild of Sanchitha Wickremesooriya, a Berklee College of Music graduate and old boy of Royal College. The concept was inspired by his paternal grandfather's efforts in Sri Lanka and thus is a main reason why the facility continues to use the Original 'Sooriya' name and pays tribute to its founders.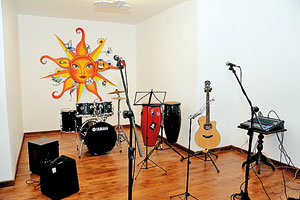 The Sooriya Village will bring together artistes of all disciplines under one roof to work together and create a new genre of art with the potential to reach global audiences. The Sooriya Village houses many amenities such as two fully equipped performance arts rehearsal suites, a practice space for visual arts performers and a state of the art recording studio.
It will also have a 100 seater restaurant presided over by celebrity chef 'Koluu', a library dedicated to the arts, a tech / lecture room, a merchandise store co-shared with The Yamaha Music Center, living facilities such as dormitories, a private suite, plus much more. The space is also a museum for 'Sooriya' memorabilia and pays homage to its artistes with its hall of fame, where musicians are inducted for their services to the music industry of Sri Lanka!
The Sooriya Village, thus provides its users with multiple services from education, entertainment, relaxation and great food,
all centered around the principal idea of community, hence the name 'The Village'.
Brains behind the concept Sanchitha Wickremesooriya has been studying music since the age of four under legendary teachers such as Mary Anne David for voice and choral music, Mithrani Smith and Priyani Fernando for piano, and Dian Fernando for both violin and piano.
He was also fortunate enough to study under Surekha Ameresekera during his years at the Royal College Choir, where his passion for training school choirs truly developed. At Berklee, Sanchitha was able to achieve great heights. He founded and led a cultural exchange programme for Sri Lanka through the project titled 'The Berklee Sri Lanka Cultural Exchange Programme' which showcased Sri Lankan dance, drums, food and traditions.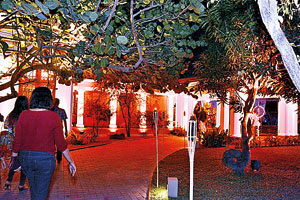 He then went onto create a music video titled 'Celebrate Sri Lanka' which was promoted through the Berklee Youtube Channel.
Thanks to many great individuals at Berklee, he was also given the opportunity to perform with musicians such as A.R. Rahman at the Boston Symphony Hall, and at the Berklee Performance Centre with names such as Clinton Cerejo, Vijay Prakash and Yoghini Gandhi, and will be performing in India for his second time along with Berklee
students and Alumni in September 2016. He also serves as an Alumni Ambassador for The Berklee College of Music.