Kicking up some fun with Bubble Bash
Pix and text by Dilantha Dissanayake
View(s):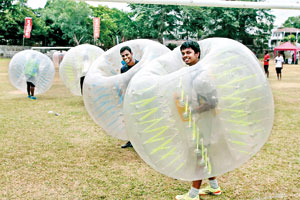 Recently an inaugural event called Bubble Bash took place at Campbell Park. Organised by the student union of the Edulink International Campus.
Bubble Football or Zorb Football is a recreational sport with similar rules to football however players are encased in an inflated round plastic bubble.
Twenty-four teams of five players per team competed for a top prize of Rs 40,000. While normally the rules of the game prohibit players from bashing into each other – this event encouraged the behaviour to hilarious instances. Every team paid Rs 5,000 in registration fees and a portion of the profit was donated to a local orphanage in Colombo.
Aasif Azmi who took part commented that "it's not fully visible to see the ball through the Zorb but you can, it's physically tough to run with the Zorb as its heavy and you get really tired really quickly."