Inspiration from above
By Joshua Surendraraj
Kingdom Life after bagging five awards at TNL Onstage season 16, including the award for best band is already hitting the studios as the Mirror Magazine finds out
View(s):
After bagging five awards at TNL Onstage season 16, Kingdom Life, the competition's best band is already hitting the studios, as they prepare to launch their first EP "Urban Spiritual Music" in October, this year.
Early on during the week, we caught up with one of the band's founding members, Subodha Pilimatalawwe. Subodha was formerly a part Brown Boogie Nation (BBN), a local hip hop group that took on Colombo in the 90's.
'Kingdom Life', was actually an idea lingering for some time when he was in prayer, Subodha tells us.
"One day Thilanka happened to speak about music and I mentioned this to him. Then we started working towards it and it just literally happened overnight."
"God is real and his spirit is alive! Walking in faith is the ultimate high! compared to the journey with the Holy Spirit manifesting in you," he says.
It was the vision for Kingdom life, which brought everyone together and it is their love for Jesus that keeps them together. A few of the band members were already a part of the King's Revival Church worship team, while the others were mutual friends.
"Most of the guys have been involved in church worship. Shehan, Dexter and I have been involved in music/bands before so it is a good mix of fresh and old I suppose," Subodha says.
Subodha was born to a different faith, but always used to pray. He says at the age of 20 he began to experience miracles in his life and was healed of a serious slip disc issue while sitting in church one day. "I was one of the worst sinners in this world and he picked me to do great things so you can imagine what he could do with someone who is better than me," he testifies.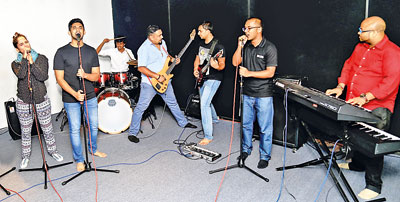 It's the band's strong prayer life and their amazing walk with God that they believe has helped them reach great heights. Their melodies come together as they go into a time of praise and worship and it is usually through prayer that a certain theme is revealed to them. "Some nights we have put about three songs together in a couple of hours. It's what we call heaven sent," Subodha explains.
Their five hour practice sessions each week saw them bag five of the hottest awards that the competition had to offer. At very top stands the Best Band award, which is followed by the award for the best original song, the rock the vote award, the most dynamic musician award and the wild take award.
It's not just with their music, the band believes that the Holy Spirit has touched the lives of every member of the band.
Apart from their faith, Kingdom Life also draws inspiration from renowned Christian worship bandssuch as Lacrae, Casting Crowns, Hillsong and Planetshakers. They are also inspired by the likes of artists, Chris Tomlin, Andy Mineo and Kari Jobe. The band currently has over fifteen songs which they have done, which are yet to be recorded.
They also plan to create another ten more this year. They plan to do a lot of gigs in the future and try to accommodate most of the requests that come their way.
Subhoda tells us that there's also a Kingdom Life concert in the making and will hopefully take off in November or December.