'Bak Maha Akunu' back
View(s):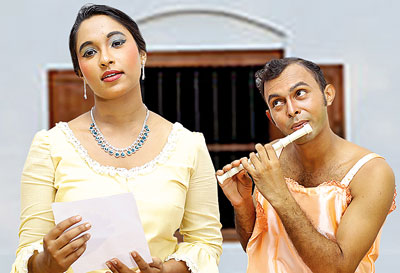 After a four decades of silence, Dayananda Gunawardena's acclaimed play 'Bak Maha Akunu' will be staged at 3.30 pm and 7 pm on September 25 at Lionel Wendt theatre, Colombo. The drama is known to have made a significant impact on the history of  Sri Lankan theatre.
The play was first performed in April 1963, with the 'revolving stage' being introduced to Sri Lanka. Arrangements are being made by the late dramatist's Nalu Kirthi Sabha Theater Group to have this production on a revolving stage the first and probably the only attempt in Sri Lanka at such a challenge since the late Gunawardena's original production in 1963.
'Bak Maha Akunu' will feature a both veteran and young cast including  Jayanath Bandara, Rathnasheela Perera, Sunil Tillekeratne, Janaka Ranasinghe, Indika Jayasinghe, Kelum Gamlath, Tharanga Kumari, Yohan Ranasinghe, Mahesh Amarakoon and Sanjeevani Wijekoon.
Pubudu Walpita will lead the orchestra to the original music composed by the late Somadasa Elvitigala and costumes designing is by Irangani and Abhimangala Gunawardena, stage management by Asoka Jayasinghe, makeup by Chandrasiri Rajapaksha and choreography is by Prasannajith Abeysuriya.
Lighting is by Gamini Wanniarachchi, stage props by Ranjith Premathilaka and Indika Ramanayaka and the revolving stage by Kelum Jayasinghe. Technical advice is by W. A. Shantha Kumara and Kirthi Gunawardena.' All seats are box planned and Tickets available at the Lionel Wendt Theatre.