An evening of sacred music
View(s):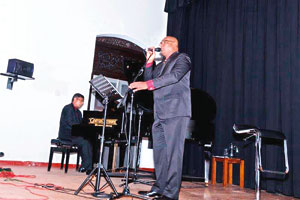 Eshantha De Andrado together with the Goethe Institute held  an evening of  sacred and secular cmusic titled "Because He Lives" at the Institute (German Cultural Centre) last month. He was accompanied on the piano by Neranjan de Silva. The performance began with Eshantha singing "
Panis Angelicus"
by Cesar Frank which had been a favourite of his and has been sung on many occasions by him. He also sang Schubert's Ave Maria. The "Power Of Your Love" was next and he dug deep into the basso profundo voice that he has to do justice to the same. Eshantha was joined on stage for this by Anila de Silva who added grace to the song.
The "Holy City" was next on the line up and this time Eshantha  had more soul in the singing which was followed by the wonderful hymn 'Great Is Thy Faithfulness'.  Next was an all-female rendition of "As The Deer Pants For The Water" sung by Anila de Silva and Thisari Piyarisi. Their voices complemented each other. Eshantha then sang  "Jesus Messiah" and then went on to sing two numbers namely "Shine Jesus Shine" and "How Great thou Art" with the audience.
Eshantha owes his musical talents to his guru the late Kalasuri Lylie Godridge who coached Eshantha from his school days. Eshantha is a founder member and the choral director of the Peterite Chorale, and is also a member of The LG Singers, St. Mary's Choral Group and Oktave.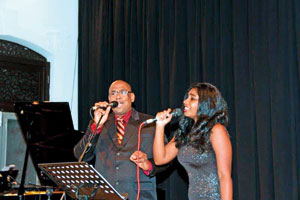 Shanti Bandara