True blue
View(s):

Remembering Herbert Sri Nissanka – a founder member of the SLFP as the party turns 65
By Udumbara Udugama

As the Sri Lanka Freedom Party celebrated its 65th anniversary last week, Manil Yamuna Devi Sri Nissanka Karunaratna, the eldest daughter of Herbert Sri Nissanka on the invitation of the Sri Nissanka Foundation unveiled her father's statue at the Sri Nissanka Maha Vidyalaya in Kurunegala on September 4. Her daughter Avanti Karunaratna and son Prof. Amal Randhir Karunaratna were also present at the ceremony.

Herbert Sri Nissanka was one of the founder members of the Sri Lanka Freedom Party and Manil Yamuna Devi remembers the many discussions held at their home. From 1947 to 1951 Sri Nissanka with a group of politicians worked hard to build a new party, realising that there should be a strong democratic opposition to the UNP. Over a number of years, with the support of many leaders and friends he had discussed this idea. His good friend S.W.R.D.Bandaranaike had his Sinhala Maha Sabha and was with the UNP. "Once when SWRD came to 'Yamuna' he said 'Solla' being in that party, you will never be Prime Minister, come and join me. At first he did not wish to join, but with his resignation from the Parliament, he did join," Manil Yamuna Devi recalls.

"Everyone called him Banda, but my father always called him Solla, I don't know why. Maybe because he was Solomon and they were good friends.

"When SWRD resigned from the Cabinet of Ministers in July 1951, my father was very happy. He went to Tintagel in Rosmead Place, congratulated him and invited him to join the group and lead the Party. He did join with some members of the Sinhala Maha Sabha.

"My father was responsible for the symbol, the colour and name of the Party. Blue was selected as it is the colour of Vishnu, protector of Lanka. The name Sri Lanka Freedom Party – the desire for Freedom made him endorse the word Freedom. SWRD added Lanka Freedom Party and 'Sri' in honour of Sri Nissanka! At that time we were Ceylon, not Sri Lanka. The symbol hand was the blessing of the Buddha – in blessing all," said Manil Yamuna Devi. The group decided unanimously that SWRD should be the leader of the Party.

D.B. Moonekulame, Private Secretary to Sri Nissanka in Part III of his memoirs published in the Daily News writes, "The Sri Lanka Freedom Party was inaugurated on September 2, 1951, one month and two days after the resignation of Bandaranaike. Sri Nissanka was one of the original architects of the party whose inspiration was responsible for the designation, symbol and colour of the party."

In her collection of newspaper cuttings is a picture where the caption reads, "H. Sri Nissanka, a founder member of the Sri Lanka Freedom Party addresses the party's inaugural meeting held at the Colombo Town Hall on September 2, 1951. In the chair is Mr. S.W.R.D. Bandaranaike who was unanimously elected its first President."

Manil Yamuna Devi spoke of how her father, a southerner from Balapitiya embarked on his political career from Kurunegala, a Kandyan electorate. "He had a coconut property Thiragama Estate, in Pothuhera near Kurunegala which he would visit and take the family. He spent much time here during the war years and may be this was the reason for making a surprise choice for the boy from the south, in a predominantly Kandyan area."

It was 1947 – the first parliamentary elections of Ceylon that he contested as an independent.

"This created a major sensation as he had to face Sir John Kotalawala who was well established in Kurunegala and had a large following. But Sir John decided to contest Dodangaslanda where he had the Kahatagaha mines, about 20 miles from Kurunegala. He abandoned Kurunegala. It was an astonishing choice, as Kurunegala had been his stronghold for 16 years, since the election of the first State Council in 1931."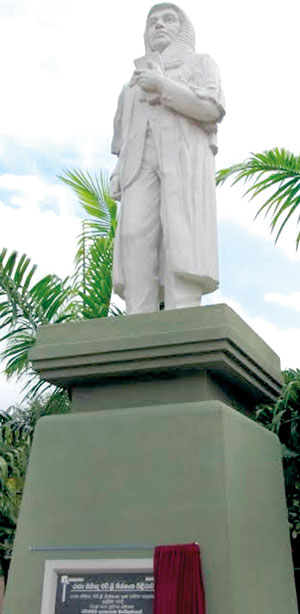 Sri Nissanka won the elections against Ivor Palipana. "It was an upcountry-low country battle," she says. He contested for the position of Speaker of the House and was defeated by a small margin.
Moonekulame writing to the Daily News under the title Sri Nissanka 'Sensation at the hustings' states: "Sri Nissanka convened a meeting at his residence 'Yamuna' at Wellawatte, where 42 newly elected members of Parliament who unanimously adopted an historic resolution, unique in the annals of the country, pledged their 42 votes to Bandaranaike to enable him to seek appointment as the first Prime Minister of the first Parliament of Ceylon."
"Sri Nissanka personally presented the 'Yamuna Conference' pledge to Bandaranaike who graciously declined the honour as he considered it his solemn duty to ensure the stability of the first Parliament of Ceylon and as a Senior Statesman D.S. Senanayake deserved to be the first Prime Minister of independent Ceylon."
A politician, legal luminary, scholar and poet, Herbert Sri Nissanka KC was born on December 7, 1898 and passed away at a comparatively early age of 56 years on February 26, 1954. He was married to Muriel Christofelz and had three children, Manil Yamuna Devi being the eldest.
Manil Yamuna Devi was at Visakha Vidyalaya during Mrs. Motwani's time. The habit of reading grew in her at a very young age and she was very knowledgeable in literature – both English and Sinhala, Buddhism and classics. "I read many books in my father's library," she remembers.
At the age of 16, she remembers vividly listening to her father and his friends discussing politics. "As a teenager I sat on the staircase next to the dining room at 'Yamuna', at Maya Avenue, Wellawatte and eavesdropped on the political conversations my father and his friends had, seated round the black and red long lacquered table with its high back chairs. They were famous names and faces."
Many would visit 'Yamuna' and have discussions over long periods of time. "These were called Yamuna Conferences. I remember Colvin, NM, C.P. de Silva, William Silva, A.P. Jayasuriya, the older D.A. Rajapakse who was a mentor to my father and SWRD."
Herbert Mendis Sri Nissanka had his early education at Ananda College when Sir D.B. Jayathilaka was the Principal. Later, he joined Royal College, his father's alma mater. He studied at the Law College and in 1919 left for England for St. Edmonds Hall at Oxford University. He obtained an Arts Degree and was a member of the debating team. Sri Nissanka met S.W.RD. Bandaranaike who was also at Oxford and they became very good friends.
He was called to the Bar at Middle Temple as a Barrister and returning to Ceylon at the age of 24, he began his professional career as an Advocate at Hulftsdorp, having earned his place in the Inns of Court. A celebrated criminal lawyer, Sri Nissanka won many a sensational case with his address to the jury. If he knew that a client could not afford a fee, he would appear free for him.
He was made a King's Counsel in 1944, one of the first to gain 'Silk' in British Ceylon.
Sri Nissanka's father Nissanka Diveris Mendis was a Senior Administrative Officer in the Railway. His mother Anoma Wickremaratna de Zoysa hailed from the Garumuni family in the South. His uncles, Robert De Zoysa, Arthur De Zoysa and Ian De Zoysa were all members of the State Council.
Manil Yamuna Devi remembers an interesting incident which made the news. "My father had gone outstation for a case and he had to attend Parliament later that day. He had gone to Parliament in his tunic coat, trouser and suede sandals for which he was chastised. He rushed home, changed into a sarong – I remember it was a checked sarong, with brown lines, and went back." The Speaker, Sir Francis Molamure after a brief discussion ruled that he was appropriately dressed. It was in the newspapers too, with a picture. That's how the sarong went to Parliament" smiled his daughter. Although it is now very common to see Parliamentarians in sarong, it was not so in 1949!
Sri Nissanka's mother had very close relatives who were famous Buddhist monks and this Buddhist background helped to mould him. He studied under Ven. Hikkaduwe Sri Sumangala Thera, Ven. Sri Gnaneswara Thera, Ven. Lunupokune Dhammananda Thera, Ven. Chakkindha Thera from Burma, Ven. Welithara Suddhassana Thera and Ven. Abhidammika Medhankara Thera and as he knew Pali and Sanskrit he had a good understanding of the Dhamma.
At 19, while in his Intermediate at Law College, Sri Nissanka shaved his head and sought admission to the Sangha Samanera as Kavindhaja Kesara. He lived in Burma (Myanmar) for two years and received Upsampada at the feet of Ven. Gandhayoung Shayado. But receiving a message that his father was very ill, he disrobed with the promise that one day he would return to robes, his daughter says. "His resolution to build an 'Aranya Senasanaya' was promised to his Master in Burma. The result was the establishment of the Salagala Aranya where he was President for 26 years and resigned due to ill health. He requested Dudley Senanayake to be President thereafter and D.S. Senanayake planted a Bo sapling brought from India."
Manil Yamuna Devi remembers their visit to Burma in 1947. "We went by the steamer named Devonshire. As we came up the river Irawadi, the Golden Stupa Shmedgon Paya rose glowing golden above the trees. It was an amazing sight." "During this July visit in Rangoon, Bogyoke(Major General) Aung San, (father of Aung San Suu Kyi) considered the Father of the Nation was assassinated at Parliament. At the funeral I remember Mr. Bandaranaike (SWRD) standing next to me, pensively looking at the leader lying in state in a coffin. "Little did he guess his fate," Manil Yamuna Devi says.
Anuradhapura was her father's most loved city. When he drove his Skoda with the hood down or went in his Riley, he would always alight from the car and stand on the bund of the Nuwarawewa and gaze at the great stupas of Abhayagiri and Ruwanveliseya. He would sing Danno Budhunge, Manil Yamuna Davi recalls. "He was one of the main speakers when the 'Kotha' gifted from Burma was placed after the restoration in 1940. A huge ruby is on top of the Kotha. My father spoke on BBC, a world broadcast, a maiden speech to the world and recited the gatha 'Sayasnu yaswin sugathassa dathu…." the prayer to the Ruwanweli Seya," the she remembers.
"Whenever we passed King Elara's grave site, he would insist that all members alight from the car and walk as a mark of respect for the great and just king. It was a decree by King Dutugemunu," she said.
At the end of his life when he was ill, she would cook his favourite food and feed him. "He knew his time was coming to an end and he was in deep meditation remembering the practice of his entire life by which he lived – ashtanga sila." "Sitting in his favourite armchair, gazing at the 20-foot painting by Carl Kasmann, of the Gautama Buddha descending to the Himalaya mountain from the Thusitha Deva Loka, having preached to his mother, he passed away. At the funeral oration SWRD Bandaranaike lamented the loss of a life long friend and trusted companion."
The country lost a scholar, humanitarian, author, poet, playwright, great orator with a sharp wit and good command of many languages and mostly a great Buddhist.