Big families big on food
By Adilah Ismail
Chilean chef Maricela Hernandez Herrera who was here for the Colombo Gourmet Week talks about growing up in Latin America
View(s):
Chilean Chef Maricela Hernandez Herrera began cooking when she was seven years old. As a wide-eyed and inquisitive child, Maricela would hover around her grandmother, an exuberant woman with a flair for bringing her family together over food, while she puttered about in the kitchen.
Now based in Beijing, China, Maricela specializes in preparing Chilean cuisine for events and enjoys teaching Chilean food, taking Chilean flavours to the world. In Colombo recently for the Colombo Gourmet Week, Chef Maricela discussed   aspects of Chilean cuisine with the Sunday Times.
What spurred your interest in food and how did you get started? Did you always want to be a chef?
My family is very big so every weekend we would meet to have a barbeque or make other special Chilean dishes. When I was a child I would spend a lot of time with my grandmother who was a very good cook so we started trying delicious dishes when we were very young. I was always interested to try dishes out and would look for her when she was cooking – our family was always in the kitchen.
In Latin America, it is all about eating when it comes to big families. If you have a big family, you go out in the beach or mountains and find a place to prepare a good meal with good company and eat well with good wine.
I never had a dream to become a chef, it just happened. I worked to save money to study and spent three years working in kitchens and studying in culinary school. I lived for three years in South Korea, working there in a Latin American restaurant and started teaching. It was very interesting. It was my first time teaching someone our flavours. I've been living out of my country and in Asia, everybody wants to try Latin American dishes so I'm very proud to show people and teach them.
What are your favourite aspects of Chilean food?
Seafood. Every summer when I was a child, I would spend two months in the beach with my grandmother and I grew up with many kinds of seafood.
What are the most common misconceptions people have about Chilean food?
I've heard some say our kitchen is very plain but it's not. You can find some dishes that are plain but if you go to the right places, you can also find the good ones. With empanadas for example, Argentina and Mexico also have it but we have a different variation of it. We have seafood empanadas and deep fried crab empanadas with cheese which nobody knows of.
Are there any key spices which mark Chilean cuisine? Do tell us about historical influences on Chileancuisine as well.
We use a lot of cumin. In the South of Chile, there is a small community called the 'mapuches' (indigenous inhabitants of south-central Chile). They have a special chili, which is dried and smoked, called merkèn and is used mostly in the south.
We have a lot of influences. Especially Spain – we have very similar dishes. There are also influences by German people and we also have a little touch from Italy. But mostly a lot of Spanish influences.
What are your go-to ingredients in the kitchen?
For me, the perfect match is coriander, lemon, onion and chili – I always need some freshness.
Could you elaborate about your menu for the Colombo Gourmet Week? What and how did you choose which dishes to showcase?
They gave me a wine list and wanted Chilean food so choosing it was easy. Also Sri Lanka has a lot of crab and we are big crab lovers!
We had pumpkin bread, empanadas (dough filling with beef, onions, olives and raisins) and some salmon ceviche. And then, I prepared a corn and beef pie (this dish is a summer dish because we have a lot of corn) and after that, a crab pie made with a stew of cheese and cream – this is my favourite dish.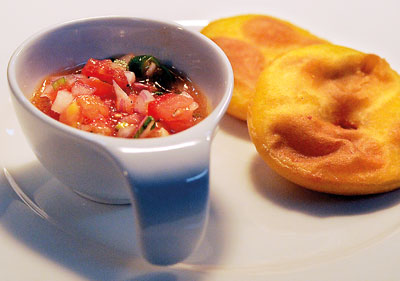 We have a lot of milk in Chile and in Argentina. Dessert was dulce de leche – we call it manjar, it's the same taste but our manjar is not so liquid and is like a spread. I like it very much. We served a manjar mousse and chocolate. We have a lot more but this is a dessert from our childhood.
If you were to prepare a Chilean meal for someone unfamiliar with the cuisine, what dishes would you prepare to ease them into Chile's food culture?
For starters, something with seafood – maybe some salmon ceviche and some empanadas.We use a lot of salmon because it's easy to find, is very tasty and has a lot of Omega 3 so it's healthy as well. As a main course, some barbequed beef or pork accompanied with some potatoes and a Chilean salad.  For dessert, my favourite is a meringue cake with manjar. We have a special fruit only in Chile and Peru called lukuma. It has an avocado texture and we mix it with the manjar and make meringue cake.