A different musical
View(s):

By Purnima Pilapitiya
Anushka Senanayake's last production in Sri Lanka was in 2014 when she took on the award- winning musical "The Last Five Years". The founding artistic director of Theatre Junction, Anushka together with the group's music director (and her sister) Natasha have a liking for contemporary theatre showcasing diverse, quirky plays and original scripts as seen in their past productions- Time and Motion (2012) and "Dead Man's Cellphone" (2013).

Their recent dive into musical theatre with "The Last Five Years" initially started out as a spontaneous idea, but took the stage with powerhouse performances by renowned tenor Asitha Tennekoon and Anushka herself as the play's sole characters. Revelling in the complexity of the everyday, audiences were taken on an emotional roller coaster ride over the course of the characters' five year relationship.

As a director, Anushka admits to being drawn toward deceptively simple plays and relatable, everyday characters held together by the complexity of human relationships. This September, Theatre Junction will bring to life another musical "Next to Normal". Contrary to its reassuringly mundane title, the rock musical orbits around a mother who struggles with bipolar disorder and its effect on her and her family. Set against a typically suburban background, the moving story also deals with issues of loss, ethics of modern psychiatry , family, suicide and drug abuse.

The 25-year-old director is excited with the building up of her newest project which has been taking shape over the past two months. Following her graduation from Converse College, USA with a Bachelor of Arts (Honors) double majoring in Theatre and Economics, followed by a Master of Fine Arts in Theatre Directing from Trinity College Dublin last October, the young director has more recently been behind two critically praised productions abroad in the past year.

""I'm always reading scripts," says Anushka, who came across Brian Yorkey's script by chance while browsing. Attracted by the heavily actor-driven piece, she knew she had to try her hand at the play not only because of its heart wrenchingly relatable characters and soaring score. "It's relevant and engaging. It's different from other musicals." Surrounded by friends who were studying psychology "it is an important subject we need to talk about" she explains. Built around Diana Goodman, a suburban mother who suffers from bipolar disorder, her struggle is reflected in the lives of her husband and teenage daughter and provides an identifiable insight into the mechanism of the family unit.

The winner of three Tony awards and runs on Broadway and international tours, the plot is backed by Tom Kitt's varied soundtrack of rock and pop. As with "The Last Five Years", Natasha, one of Sri Lanka's few professional female composers, is busily coordinating the live music that will accompany the show. This time around, the sisters are gearing for a bigger more varied orchestra to accompany the edgier, rock and roll numbers that make up most of the play's big songs.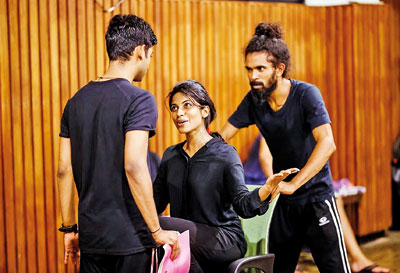 It's no surprise then that the cast is also made of diverse musicians, actors and performers. "I couldn't have asked for a better cast," she says. A gathering of performers who have all dabbled in musical theatre, their styles vary from pop singers Devashrie De Silva and Damien Fernando to local rock giant CC De Silva and Gyles Dharmaratne, Sithara Pathirana and Eraj Gunewardena- all who have a background of choral music and musical theatre.
"I don't really have a favourite scene," Anushka reflects with each rehearsal illuminating a new shade to the endless of potential of the characters or the music which is challenging the performers to explore genres out of their comfort zones. Having never watched the full play, Anushka shrugs off even the mere suggestion of nerves, adding that the beauty of contemporary theatre allows them the freedom to traverse through endless ideas and spark conversation. Much like the characters, she says"I want to show people that it's ok to just feel. To feel on different spectrums."
"Next to Normal" will take place on September 29, 30 and October 1 at the Lionel Wendt theatre. Tickets priced at Rs 2500, 1500, 1000 and 800 will be available at the venue from September 20. For advance bookings please contact 0777567366.