The Hive : Platform for homegrown startups
View(s):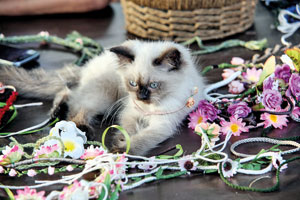 The Hive is the newest edition to Colombo's growing outdoor market scene.
It was beguun by three friends Chantel, Chenuka and Nithiesha who also have stalls of their own.
Chantel runs a highly nutritional coconut water based juice stall called Coco Ceylon, Chenuka just launched Sugar Inc. a confectionary food stall selling beautifully decorated cupcakes, cookies and brownies while Nithiesha's Food Adventure stall sells hot bites such as Satay Chicken, Baked Crab and Mongolian rice.
At this market attendess will be able to find home start up businesses like a clothing range from Ishara Rodrigo called 20 First with limited edition bespoke women's wear. While also able to savour food from Pho Vietnam, selling an authentic sweet dessert called 'Che', made with black beans, tapioca jelly, mango pieces topped with lashings of coconut milk and ice. There is also a company that provides Shiatsu massage therapy.  Many of the vendors are regulars at other Colombo markets like The Hippie Market and Colombo Design Market. This open air market limits the number of stalls selling the same items. If you head to Colombo's Food Market you will see many stalls selling juices, thabli, brownies and other desserts. Here there has been a clear planning and thus vendors do not feel pressured with competition.
Another great reason to visit The Hive is its location, nestled in the garden of the Colombo's Public Library there are tall trees providing shade.
The girls are hoping to have this market every three months and if you would like to have your own stall  find then on Instagram under The Hive Colombo. Or visit facebook.com/thehivecolombo/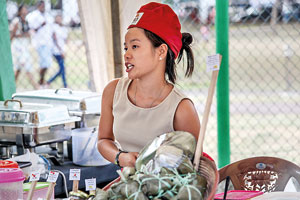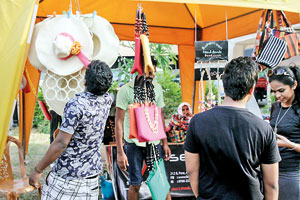 (Text and pictures by Dilantha Dissanayake)