Lankan comic book, fantasy fans get into Cosplay
Text and pictures by Dilantha Dissanayake
View(s):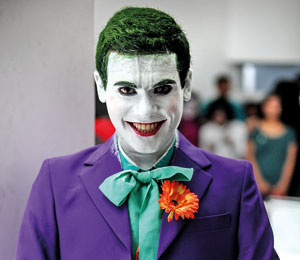 The second annual Lanka Comic Con took place recently  at the JDA Perera Gallery.
Organised by the Geek Club of Sri Lanka it brought together fans that share a passion for comic book characters, video games, cult movies and board games.
Spread over three floors and lasting two days the event had many diverse attractions for adults and kids. For board game fans there were designated areas to play Warcraft, Star Wars or Dungeons and Dragons. For those who love video games a game station was set up with gamers playing endless battles of Counter Strike.
There were even panel discussions debating topics like comics for the 70s and 90s, three-dimension sculpting and diversity in comics. The event was very child friendly with areas to build and paint space dinosaurs and foam sword combat.
An entire floor was dedicated to Cosplay; this is the performance art of wearing a costume and fashion accessories to represent a certain character. They may be heroes of villains from comics, video games, television series or movies.
Some take the role-play very serious by taking many months to prepare the costume down to the minute detail and even studying the mannerisms of the character. Others simply apply face paint or wear a mask.
Oshitha Narangoda who dressed up as the Joker explained in detail about his character. "There are different interpretations of the Joker as there are many versions of the character, like the animated version voiced by Mark Hamilton or Jack Nicholson in the first Batman movie. It took me three hours to apply my make-up and one year of preparations to get the suit ready, which was custom made by a tailor.
Others go to extreme lengths to make the costume themselves like Sonia Jayatissa who took three months to make the outfit along with lights and a staff who came as Crystal Maiden from the video game Defence of the Ancients or DOTA.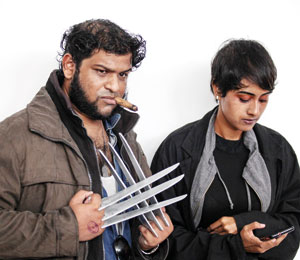 This year saw a special guest arrive from India to help judge the Cosplayers. Jatin Varma established comic book conventions in Delhi, Mumbai, Bangalore and Hyderabad back in 2011. Attracting a combined number of 150,000 people at all his events.
"I saw this happening last year and decided to come. When I got in touch with the organisers they invited me to be a judge. I sometimes Cosplay, yet I am more casual about it. I go in a Star Trek uniform, which is easy to take off. Some are more professional about it. They make props and accurately create every detail of the character. The attraction is that you get to show off how in to the character you are. You can wear a t-shirt or an accessory but you can really play the character in the costume. You are in an environment where other people have the same passion and a lot are taken a back by how a many have the same passion," he said.