'Jetwing Beach' named 'TUI Environmental Champion 2016'
View(s):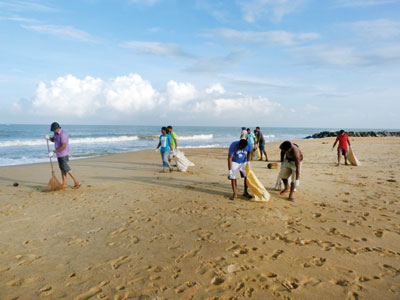 Keeping in line with Jetwing Hotels Sustainable Strategy, the 26 properties across the Jetwing family engage in earthly-friendly practices making it a distinct corporate entity in the country. Verifying this commitment to sustainability, Jetwing Beach, Negombo has been named one of the TUI Environmental Champions in 2016 for its commitment to the environment.
A release from Jetwing stated, a German based multinational company, TUI is the largest leisure, travel and tourism company in the world. It owns travel agencies, hotels, airlines, cruise ships and retail stores. The group owns six European airlines – the largest holiday fleet in Europe – and nine tour operators based in Europe and Scandinavia. Since 1996, TUI has awarded hotels that took extra steps to protect the environment and exercise their social responsibility. The award is being presented annually and approximately 200 hotels across various destinations in the world are bestowed with the title. However, Jetwing Beach Negombo is the only hotel listed under Sri Lanka this year to be identified as a TUI Environmental Champion.
With the prestigious Travelife Gold certification at hand for sustainability in tourism, Jetwing Beach with its associates gives precedence to earth friendly practices; hotel's associates make it their responsibility to absorb the green activities in their duties and promote such initiatives to their guests as well. At Jetwing it is believed that tourism cannot exist in isolation, which is why sustainability in the lines of energy and carbon, water and waste, biodiversity, community and culture, family, and responsible sourcing and production is heavily incorporated.
Among the many activities beach cleanup programmes extending beyond the boundaries of the hotel are carried out twice a month, involving the community and hotel associates. The hotels renewable energy sources being the solar thermal system and a biomass boiler generates 100% of the hot water at the hotel. Entire artificial illumination at the hotel is achieved through energy efficient LED and CFL bulbs. Additionally, in 2015, Jetwing Beach saved over 17 million litres of freshwater by treating and reusing 100% of the wastewater generated at the hotel. Across the property many other environmentally-friendly practices are ensued making the guests feel very much a part of responsible tourism.