'Burning Birds' flies to Busan
Sanjeewa Pushpakumara's second film selected to compete at Busan Film Festival in Korea
View(s):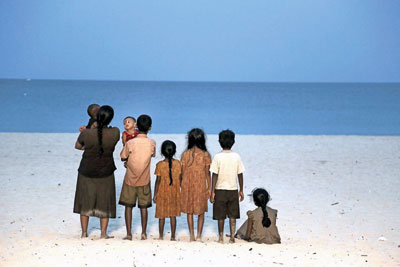 Sanjeewa Pushpakuma's newest film 'Davena Wihagun'- 'Burning Birds' has been selected for 21st Busan International Film Festival which is to be held from October 6 to 15. The film will be screened in the competition section under New Currents Awards.
The second film direction of Sanjeewa Pushpakumara is a co-production of Sri Lanka, France, Doha Qatar and the Netherlands. The screenplay of 'Burning Birds' was selected for Cinefondation Residence at 2013-2013 Cannes Film Festival and the screenplay was selected to be further developed at the Jerusalem International Film Lab. It was developed for seven more months under the guidance of a French screenplay writer.
For Neon Production in France Antonin Dedot and Dominique Welinski and from Sri Lanka Sanjeewa Pushpukumara for Sapushpa Expressions produced the film.
The year is 1989. A small village in Eastern Sri Lanka. After her husband is abducted, tortured and murdered by a paramilitary group, Kusum struggles against all odds to look after her eight children and mother-in-law, making sacrifice after sacrifice for her family.
The film stars Mahendra Perera, Samanalee Fonseka, Anoma Jinadari, Chandani Seneviratne, Leoni Kothalawela, Shyam Fernando, Dasun Pathirana, Pubudu Chathuranga, Dharmapriya Dias, Tissa Bandaranayake, Priyannkara Samaraweera, Dharshan Darmaraj and Sanjeewa Dissanayake.
Behind the screen director of photography is by Kalinga Deshapriya, costume by Ajantha Alahakone, art direction by Piyatissa Anuramboda, make up Priyantha Dissanayake, edited by Ajith Ramanayake and Katharina Wartena, colour grading by Elie Akoka, sound management by Priyantha Kaluarachchi and Nicolas D'halluin. Music direction is by R. Abaji and Philip David Sheppard and playback are sung by Sriya Kariyawasam, Nipuni Saradha and Jithendra Vidyapathy.
'Burning Birds' follows Sanjeewa's somewhat controversial debut 'Igilena Maluwo'- 'Flying Fish', a production supported by Hubert Bals Fund of International Film Festival Rotterdam.