An opening for budding stars
Tharuwessak;
View(s):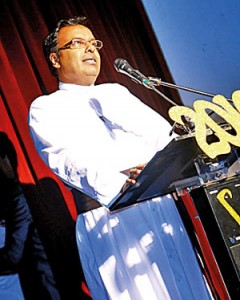 The latest compact disc with a collection of songs sung by those studied music at Pasquel Sound of Music run by welknown singer Keerthi Pasquel was release recently.
The CD is the fifth such attempt by students who study at the musical academy. All the songs are original with voice rendered by 16 singers who make their debut in the musical field. It was also an opening for eight new lyricists and all the music compositions are done by Keerthi Pasquel himself.
The chief guest of the event was welknown musician and Director, Archdiocesan Social Communication and Cultural Centre Visharadha Rev. Fr. Edmond Tilakaratne.
The new singers include Bhashi Pramudya, Nethshan Siriwardena, Chandra Thalaga, Sandya Jayawardena, Anushi Gamage, M. C. Jayaratne, Sujatha Karunaratne, Aruni Shanika Dirukshi, Princy Butani, Upali Ranjith Ranasinghe, Padmini Hewa Vithana, Anudini Jayawardena, Wasanthi Gunawardena, Tyronne Fonseka, Chandani Palliyaguru and Cleopatra Wijesekara.