Visiting German technician improves Audi car care in Sri Lanka
View(s):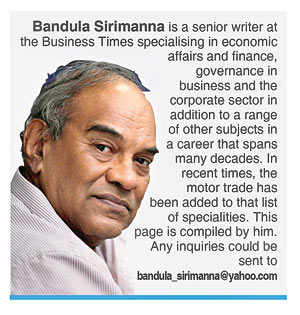 With a view to ensuring Audi customers the optimal operation of their Audi cars, Senok Automobile (Pvt.) Ltd, the sole agent for Audi in Sri Lanka, has conducted a dedicated 'Flying Technician Programme' for customers providing them with finer points in taking care of Audi cars by a German technical expert.  Christian Holzapfel, an Audi Technician provided detailed car care and technical advice to Audi customers in Sri Lanka at the Audi Workshop in Wattala for a period of one week recently.  Upali Ekanayaka, General Manager at Audi workshop said, this kind of international expertise allows Audi owners to receive world class care for their cars at the authorised Audi workshop.
The Senok Audi staff has also been provided training on the latest equipment and tools to stay on par with global Audi technological developments. Senok Automobile is to invest approximately Rs.1 billion in a new showroom and upgrade its workshop to keep it in line with global Audi standards to best serve our customers, Mr. Ekanayake revealed.  Speaking about his first visit to Sri Lanka, Mr. Holzapfel said, "having been with Audi for over 27 years, I am highly impressed on the skills of Sri Lankan technicians".  He said as a 'flying' technician his aim is to create quick links between the local partner and Audi AG.