Travails of a bus and rail commuter
Kishu calls for urgent revamp of transportation
View(s):
ON THE ROAD TO HIKKA:
With the Beamer parked in the driveway, Kishu Gomes and his wife Shami, decided one Saturday morning to experience what it was like to use public transport to get around this lovely island of ours.  The goal was to get up-close-and-personal and a feel for how the people travelled. The destination was Hikkaduwa. The mode of transport would be three-wheeler, train and bus, all conveyances which are used by the working classes and the common folk.  As Chief Executive Officer of Chevron, Kishu has all the trappings that come with holding down the top job in Sri Lanka for the Fortune 500 Company – recently ranked third in the listings. But while most of his peers would have picked up their clubs and headed for a round of golf, or engaged in other leisurely pursuits, he was a man on a mission.
"I'm a guy who keeps my eyes and ears open to what is happening in society and I wanted to try and understand how people live their lives across all levels," was his reasoning for the sudden decision to use public transport.  With transport being a major talking point these days, what with the construction of the Megapolis, Kishu was keen to get a firsthand view of this key issue.  Also as the big boss, Kishu had heard enough stories cum excuses about why people were late for work and meetings. He wanted to experience the state of the transport system in the country so as to stay abreast of the world outside his cocooned air-conditioned office.  After wolfing down a banana for breakfast, Kishu and his wife left their Elibank Road home and flagged down a three-wheeler to go to Bambalapitiya railway station. The fun was just beginning.
Express train
"When we went to the station, the guy at the ticket counter said the 'Express Train' did not stop there and we had to go to either Fort or to Mount Lavinia to catch it. We decided it would be better to go to Mount for even though it was a Saturday, the traffic on the road was pretty bad and it would have taken us longer to get to Fort."  The next express train down South – only stopping at major stations – was at 9.30 am so they had plenty of time to get to Mount Lavinia. Another tuk-tuk was stopped and husband and wife piled on board. It had cost them 86 rupees for the first ride from their home, this one was more – 326 rupees – as the traffic was quite heavy even going the other way. "We got to Mount Lavinia railway station just after 8am, well in time for our train. I walked up to the ticket counter and asked the guy if we could buy tickets.
He discouraged us and told us to wait until it was closer to the time. He said 'trains are always not reliable' and said he would know later if it was on schedule.  "So we decided to wait. As there was no place to sit, I asked him if we could go in and sit on benches. He said it was okay and I could go and wait inside. My wife then wanted to use the washroom and she walked into the ladies restroom and came out faster than she went in for it was smelly and dirty. But at least the ladies had a washroom there was none for men. There were two toilets, one for tourists and one for the disabled. Both were padlocked."  By this time the guy at the ticket counter had confirmed that the train was on track but he discouraged Kishu from buying 3rd Class tickets and said it would be better to buy 2nd Class as there was more chance of getting a seat.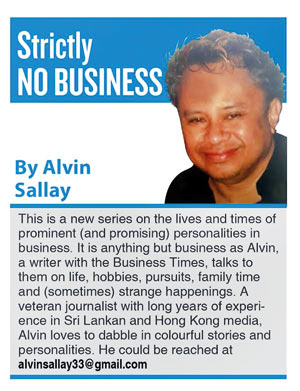 "Take 2nd class, Sir"
"A 3rd Class ticket was 75 rupees and a 2nd Class ticket was 140 rupees. It wasn't the money for I wanted to experience the real thing. But he told me to buy a second class ticket and I went along as my wife would be able to get a seat."  When the train arrived it was full. There were only two 2nd Class compartments. People were hanging on the footboard. The aisle was packed. "Shami got a seat, about one hour into the journey, at Kalutara. I stood all the way. There were ticket checkers, two of them in our compartment and they seemed to check everyone twice. But yet when we got down at Hikkaduwa, at least half the passengers didn't go past the turnstile where they were checking tickets but went down the rail track and made their exit."
It seemed many of them hadn't heard the Beatles hit 'Ticket to Ride'. It also meant the government was losing revenue. Sri Lanka Railway is a huge loss-making body. Last year its operational losses amounted to Rs.7.7 billion – far better than the Rs.11 billion loss in 2014. But it was still in the red. Kishu was pondering all these aspects as he and his better half jumped a three-wheeler to get to Main Street, Hikka.  After an early lunch at a wayside kade, the happy couple stepped outside to find a private bus pulling up beside them. It was going from Galle to Colombo and despite being crowded, they jumped on board. Tickets were priced at 242 rupees.
Demons on the road
"It was a hair-raising experience. The driver was half the time on his mobile, not only was he answering calls but at one point he was even texting. We had a number of narrow shaves as the guy was racing with other buses. Road accidents claim eight to nine lives a day and I could see why, watching this reckless driving."  With shaking legs and palpitating heart, Kishu and Shami thankfully got down from the hearse, um, sorry private bus, at Bamba(-lapitiya). The trip down the coastline, by train to Hikka and by road from Hikka had left Kishu with increased respect for the people who braved public transport every day of their working lives. His conclusion – the system has to change and the government needs to come up with a better and more efficient transport system if productivity in work places was to improve.
Due to transport costs being subsidised, Kishu pointed out that governments, whether they be blue, green, red or whatever colour, must have the courage to tackle this issue and educate the people that the system has to change. Governments are truly yellow.  "I paid around 300 rupees to go from Bamba to Mount by three-wheeler but it only cost me 140 bucks to go by train to Hikka and 242 rupees to come back by bus. You can argue that the poor can't afford it and this is the poor people's mode of transportation. But these same people have to pay 15 per cent or 11 per cent VAT. They have to pay these taxes because their train ticket and bus ticket is subsidized," Kishu deducted.  "Wouldn't it be better paying the right cost for the right product and services and not pay these indirect taxes? This way you ensure these resources are not wasted," he queries. Perhaps Finance Minister Ravi Karunanayake can answer.
Productivity drops
"We need to get back to the drawing board and come up with a transportation strategy that can offer a better service at the right price. There has to be a change. Successive governments keep on increasing indirect taxes so that they can keep on subsidising transport costs. We lose billions (Sri Lanka Railway and SLTB) and we need to revamp whole thing urgently.  "Politicians have to tell the people the truth why bus prices are going up. They have to tell the people if you pay 30 per cent more for transportation you will save this money from your daily purchases. It will be unpopular with the public. But one has to come up with a very persuasive argument, a well-structured strategy to educate the people. The country will never progress unless we make the hard decisions," was his impassioned plea.
A better mass transit system would also pave the way for increased productivity in workplaces which in turn would lead to increased growth and development.  "It is all about productivity. It is criminal to see the amount of time the workforce wastes on a daily basis. To travel 10 km in Colombo and the suburbs you end up spending one or one-and-a-half hours. When they come to office they are not in a fit state to work. The journey is so bad and harrowing the mind-set is wonky. How can they focus on work?"  As a schoolboy at Prince of Wales in Moratuwa, Kishu used to travel by bus.  But since becoming the youngest CEO in the country many years ago at the age of 35, he has been somewhat insulated from the daily grind of commuting by public transport. But he has kept his feet on the ground and tries to stay in touch with the masses.
"We lose as a country because of the poor transportation system we have, the poor management, and poor strategy. It is a serious issue. The biggest asset we have as a country is our people. We don't have enough land to beat other countries on agriculture. We don't have the technology to come up with innovative products of our own to beat other countries. We don't have enough capital to invest in infrastructure and money-generating projects to the extent we like. If a country's economy is to grow they say you must have four things – land, technology, capital, people. We only have our people."  And these people travel to work in conditions which would faze the bravest. As Kishu found out on the road to Hikka!