Flawed approvals of mini hydro projects spell river, land destruction
View(s):

By Malaka Rodrigo

Mini hydro power plants set up in sensitive areas can cause environmental damage and harm the biodiversity and ecosystem of forests, groups campaigning to protect Sri Lanka's biodiversity and the environment have warned.
The Environmental Foundation Limited and Sri Lanka Jalani said this week that there are deficiencies in the approval process of plants sited in protected as well as ecologically-sensitive areas. They suggest that policy guidelines be developed on where such plants can be built.

Trees are felled, river banks are cleared causing erosion and and rocks are blasted to build these plants. Debris chokes the rivers.
A mini hydro power plant is built by building a weir (dam) to collect water which is then channeled to generate less than 10 megawatts. Already 145 such units are in operation and it is understood that more than 100 are being developed or under evaluation.

The Initial Environmental Examination is the main assessment that determines whether the environmental clearance should be granted for such plants. But there are serious inaccuracies or omissions, Dr Sevvandi Jayakody of Department of Aquaculture and Fisheries of Wayamba University, said. "Many of these IEEs contain a dubious list of animals and plants with important species present in the area missing. It is clear that those who conduct the IEEs either do not have proper subject knowledge, do it in a hurry, or biased."

Rather than doing IEEs on a single project basis, it is important to assess the environmental impact on a whole stretch of river to assess the collective impact on the river, she said.

Regulations require that a free flow of water in a river must be ensured to help maintain the ecosystems downstream.
"But we have serious concerns on accuracy of calculations of the amount of water that needs to be released as environment flow. Who ensures whether the flow is constantly being monitored day and night?" asked Dr Jayakody emphasizing the importance of regular post-monitoring of operations of mini hydro plants.

Prof Ivan Silva who has a Phd in river ecology, said mini hydro power plants may help reduce carbon dioxide emissions, but one must take into account the destruction caused by the felling of trees to build projects.

Sections of river that dry out can also create water pools that could generate methane, which is a worse than green house gases.
Environmental Lawyer Jagath Gunawardane, pointed out the need for more serious environmental impact assessments for mini hydro power plants in highly environmentally-sensitive areas. He also questioned the ethical integrity of some experts who conduct IEEs while sitting on panels that approve projects.

"Our aim is not merely to block the development process, but to make them sustainable," EFL's director, Shehara De Silva summed up.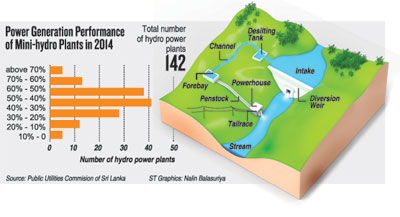 Regulators reveal holes in their buckets
The Sunday Times contacted Sustainable Energy Authority, Director General, Ranjith Pathmasiri, who noted that most viable hydro power projects have been completed and the authority is at present focusing on solar and wind power.
Referring to its role in commissioning of mini hydro power projects, he said the main responsibility was to grant an energy permit for engaging in and carrying on of an on-grid renewable energy project.

The Central Environment Authority carries the main responsibility for environmental aspects of mini hydro projects, he said.
CEA Director General K. H. Muthukudaarachchi accepted there could be some issues with Initial Environmental Examinations handled by regional offices. He said that it has been decided that assessments for projects in sensitive areas be handled by the head office. Action will taken against projects where deficiencies are found.

When asked about post-monitoring of projects, the CEA head said it had to be a shared responsibility. The CEA does not have capacity to monitor by itself, he added.