Five businessmen barred from travel over ransom-linked killing
View(s):

By Damith Wickremasekara

Businessman Mohamed Sulaiman, 29, made his final call to his wife last Sunday at 11.15 pm asking her to open the gate after he had arrived home at Kothalawala Lane, Bambalapitiya, carrying a takeaway for dinner.
But when she reached the gate, her husband was missing. She only found his car parked on the roadside. A car was seen speeding away from the scene.

Some 50 metres from the car towards the ocean, or the Marine Drive, lay the dinner, his wristwatch and a file. Blood stains indicated a scuffle. Family members were alerted and the police were informed, setting off a search.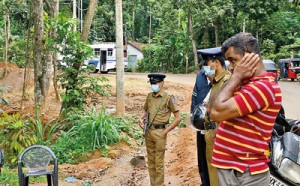 "On the following day, Mr Sulaiman's father received a telephone call at their residence around 9 a.m. The caller asked for a ransom of Rs 2 million to release the businessman. We traced the call to a roadside telephone box located in Kegalle town," Director of the Colombo Crime Division, Superintendent of Police, Nishantha de Soysa said.
A team was sent. In Colombo investigators were trying to analyse closed circuit TV (CCTV) footage obtained from residences, business establishments as well as from cameras installed by the police.
More than 60 hours later, Mawanella police was alerted on Wednesday evening by a resident that a body was seen dumped on the side of the Mawanella-Hemmathagama Road. The CCD was informed and later in the night a relative identified the body.
The Judicial Medical Officer of the Kegalle Hospital, Dr Ramesh Alagiyawannage, who carried out the post-mortem ruled that Mr Sulaiman had been murdered about an hour after his abduction and that a blow dealt with a blunt weapon above the ear had resulted in his death.
Mawanella Magistrate Mahinda Liyanagama visited the scene where the body was found. The CCD investigation is now focusing on some of his business partners with whom he had disputed transactions, including money owed to Mr Sulaiman.
On Thursday the the CCD filed a motion in the Colombo Magistrate courts seeking a travel ban on five businessmen and it was granted. The court also allowed permission to obtain details of phone calls from 10 different communications towers. A further hearing is set for September 15.
Mr Sulaiman had complained to the Criminal Investigations Department (CID) that two businessmen owed him Rs 40 million and Rs 20 million. Investigations were pending. Two more complaints had been lodged at the Fraud Bureau over Rs 5 million owed. In one of the cases, the suspect was on bail, while another had left the country.
CCD is looking for more evidence from CCTV cameras and have questioned more than 50 persons including business partners, friends, and relatives to arrest suspects.