Yashan to hit the sky with 'Jeevithe Obamai'
View(s):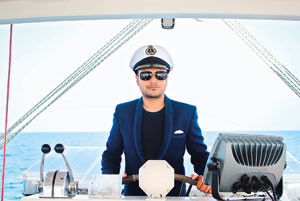 Popular singer Yashan de Silva is all set to release his latest music video title 'Jeevithe Obamai' on Sunday, 21st of August. It's an upbeat track consists a mixture of hip-hop and dance-pop styles. Music for the song was composed and directed by veteran producer, Udara Fernando and the lyrics were penned by Yashan himself.
Ushan Sasika was the D.O.P and Malith Sanjaya handled the post-production of 'Jeevithe Obamai'.
Yashan, who was busy finalising his launch finds little time to have a chat with TV TImes
ANY DIFFRENCES IN THIS SONG COMPARED TO PREVIOUS RELEASES?
Yes, it's all new song. I mean the whole concept, style, lyrics, music, video, locations and everything is new. Now day hits are mostly on sad negative side of love and talking about broken hearts and I am sure this is trend breaking song, which can influence to set a new trend. Musically we have tried to add and mix up some new tones and sounds.
'Jeevithe Obamai' music video is different and something that you won't see often in Sri Lanka. We have shot the film in the ocean about 20 metres deep water. The boat name 'Topaz' belong to 'Sail Lanka Charter'. The shooting was fun and exciting.
WASN'T IT HARD TO FILM IN THE SEA?
It was extremely hard with the heavy wind and waves. But luckily it didn't rain on that day, the sun was out and it was fine for a shoot like this. Our crew at 'Yashan Productions' worked really hard to record all the shots on time. All credit goes to Captain Anura and Pradeep, the Sales Manager of 'Sail Lanka Charter'.
WHY DID YOU WANT TO FILM IT IN THE SEA?
That's obviously to give all my fans a new experience. The lyrics too blend with the location. We created this for our fans and a new set of visuals to entertain their eyes in a different scenic way, since we see the same old love-cry-breakup scenes in most of the music videos nowadays. This is an energetic, positive, happy love song which makes you feel good. I promise it won't make you feel down and depressed. (Laughs)
A RAP ON EVERY SONG?
Not on every song. There are number of good songs which I haven't rapped on. Actually I didn't plan to add up a rap on every song. It's about the feel, flow and the style. I mean it depends on music, lyrics and the style of the song. If I feel the flow is there to include a rap according to music, then I go for it.
IS SINGING YOUR FULL-TIME PROFESSION?
YES. I am a professional musician and a singer. But I love producing side too. I write lyrics and music and do videos for others as well. And I enjoy myself as a host in the Television too. Whatever I do it's all about entertainment. I love my job.
PLANS FOR INTERNATIONAL ARENA?
Yes. That's the main reason why I put an extra effort in making of my music and video clips in different styles. All I want to do is take it very seriously and work hard to make it to the international arena.
HOW CAN YOUR FANS REACH YOU?
The fans can email me at yashan@yashanonline.com, Address of my official fb fan page is, www.facebook
HOW ABOUT 'MEET & GREET'?
'MEET & GREET' is the best news for my fans. I am planning to do it on Friday, 19th August at UNITY SYSTEMS SOLUTIONS, UNITY PLAZA from 9.30AM to 11.30AM. I would like to invite all my fans to come and meet me and be a part of the show.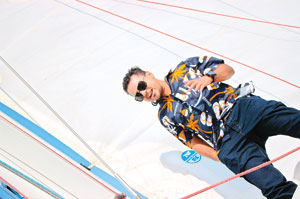 ANYTHING SPECIAL WANT TO MENTION?
Yes I would like to thank my sponsors, Asus-Unity System Solutions, Sail Lanka Charter and APPY FIZZ. All their contribution played a big part in this project to make it a successful video. This is my big release for 2016 and also the very first engagement of all those brands. So we all are excited about it. (SW)