Ministry of Crab pop-up in London's Shangri-La
View(s):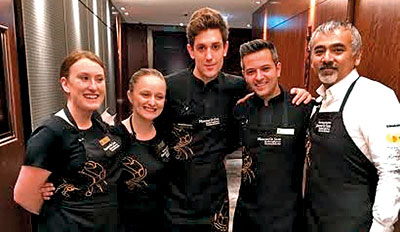 Ministry of Crab had the honour of being invited to host a pop up for one night only at The Shangri-La Hotel, at The Shard, London. Since its inception in December  2011, Ministry of Crab, co-owned by cricketing legends Mahela Jayawardena and Kumar Sangakkara together with renowned chef Dharshan Munidasa, has achieved remarkable success.
On July 29, assisted by the team at the hotel, Chef  Dharshan plated up some of Ministry of Crab's signature dishes, including the Garlic Chilli Crab and the Crab Curry, and featured a new item on the Ministry of Crab menu, the Oyster Sixes served with a homemade hot sauce and an aged soya sauce created by Dharshan 20 years ago.
Ministry of Crab has also popped up in Sydney together with InterContinental Sydney, during the ICC Cricket World Cup 2015 when Sri Lanka played against Australia. The restaurant has also had a pop up in Tokyo during the annual Sri Lanka Festival in Japan and will return again this year.