"If the hand that rocked the cradle, ruled the world…"
View(s):

With the appointment of Theresa May as Great Britain's Prime Minister a few weeks ago – only the second woman in British history to hold this position – the picture at the helm of the European world suddenly became a little different. With German Chancellor Angela Merkel becoming the longest-serving incumbent head of government in the European Union in March 2014, this combination of two of the most powerful nations in the world being led by two powerful women brought about a visible change in the political landscape.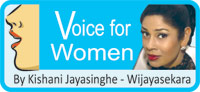 Is the world becoming more familiar with a phenomenon which began on our very own shores in 1960, with the election of the first female Head of Government in the world? The concept of female leadership has long been a thorny issue in the sides of many traditionalists – across nations and professions – who would prefer a woman engage in more 'womanly pursuits'.
Come November 2016, if Hillary Clinton clinches victory at the Presidential Election of the United States of America, it will make her their first female President. It will bring about another historic moment in American politics and in turn three of the most powerful nations in the world, will be run with women at the helm. Yet interestingly, despite making history of a different kind in July 2016, it was her husband, former President Bill Clinton, who seemed to be in the public eye. As Jessica Lussenhop reported for BBC News Magazine on the 27th of July, "Hillary Clinton: Nominated for president, but not for the front page", read the headline, with "Hillary Clinton just became the first woman in US history nominated for president by a major party. So why is her husband on the front page of so many newspapers?", just below it. She goes on to explain that despite this historic moment in US politics, "outside of the Newseum in Washington, the trend was on display in the glass cases which each morning contain the current day's front page from newspapers from all 50 states.Of the front pages on display the morning after Clinton's historic nomination, her picture was only on 19 of them."
Perhaps it is fair to say that despite the progress we have made this year with regard to women leaders in politics, there is still an inherent sexism that exists amongst many about the ability of a woman to lead a nation. This despite the fact that the political landscape is changing quite dramatically. Writing for politico.com in July 2016, titled "Women in Charge: A New Record?", Annabelle Timsit says "Picture the major global actors of 2017. Among the leading candidates to be United Nations secretary general next year are several women, and if one of them is chosen, she will join a female managing director of the International Monetary Fund and a female director general of the World Health Organization. May and Merkel will find themselves on the world stage with the female presidents and prime ministers of Chile, Norway and South Korea, among other countries, and—if Hillary Clinton can pull out a win this fall—the United States."
She goes on to elaborate that "In fact, by January 2017, as many as 21 countries could be led by a woman as president, prime minster or an equivalent high political office. That number might not seem all that big at first glance. But according to Politico Magazine's calculations, it would be a record, topping the 19 female heads of state currently in power. In the United States, 1992 was dubbed the "year of the woman" when a record number of women were newly elected to the House and Senate. Now, 2017 could be the'Year of the Woman' around the world."
What then, could this mean to the world at large and for women in general? Having a female political leader, does not necessarily mean that there will be renewed vigour in dealing with issues particularly relevant to women, and those that are sometimes sidelined such as children, getting back to work after having a family, increased access to maternity and paternity leave, equal pay for equal work and dealing with disadvantaged groups.
However the consensus seems to be that there is a tendency for female politicians to deal with diverse policy issues more coherently and conscientiously than their male counterparts. Annabelle Timsit goes on to elaborate that "there is a growing body of evidence showing that women, in certain ways, are more effective leaders than men. For instance, research has shown that women are more inclined toward 'collaboration across ideological lines and social sectors'; are more inclined to compromise and that inclination is especially useful in highly fractured countries, where female leaders are associated with higher rates of political and economic success". ("A 2013 Journal of International Affairs study showed that having a female leader in "highly diverse countries" correlated with a 6.6 percent higher GDP growth rate compared with having a male leader, because of female leaders' ability to navigate divided societies and ethnic fractionalization.")
Women are also thought to be more adept at building coalitions and pushing for peace because women – according to the Institute for Inclusive Security- are often perceived as more honest brokers than men and are good at broadening societal participation."
How too, could this change in focus towards a more female led political landscape benefit Sri Lanka and South Asia as a whole? What began as a tremendously progressive step in 1960, has almost ground to a halt, with less than 6% female representation in parliament in Sri Lanka in 2015. Is this our opportunity to pick up the baton, carried through with much struggle and hardship by our south Asian sisters, and run with it towards a more representational parliament, with women having a stronger voice and a more visible presence? Perhaps a discussion for a later date.
It is difficult to imagine how and when we will be likely to have the proper conditions to make a valid assessment as to whether a country, and in turn the world, is governed more justly, efficiently, honestly, bravely, intelligently and effectively by either sex, be it male or female. However, with the possibility of three of the world's leading economies being led by women, it brings us one step closer to levelling the playing field.
Interestingly as Janet Street-Porter sums it up in The Independent in July 2016, "Let women run things. We'll cut to the chase, excise the peripheral and the extraneous crap. We already multi-task. We are highly skilled at achieving our goals and playing well in a team.Women have been training all their lives for this moment."
All comments, suggestions and contributions are most welcome. Confidentiality guaranteed.
Please email: KJWVoiceforWomen@gmail.com