Enriching views with 'Small Talk'
By Dilantha Dassanayake
View(s):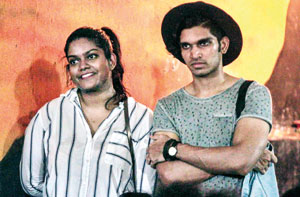 After his hugely successful music event Kacha Kacha, promoter and rapper Imaad Majeed curated an evening that explores modern cultural topics at 'Small Talk.'
Aiming to bring the social classes together speakers in English and Sinhala addressed the gathering with the final goal of having all three languages represented. "Typically intellectual conversations stay within their circles, such as NGO circles. I don't see why that has to be. A platform where anyone can be a member would further democratise the flow of ideas," Imaad said.
Like 'Kacha Kacha' the setting for 'Small Talk' was held at the Metropolitan Hotel in Pettah.
Pleasantly surprising was the mouth-wateringly tasty hot butter cuttlefish. This is a workingman's place to unwind and normally the conversations that could be overheard are of low pay or increases to cost of living.  This night saw speaker's comment on social media, environmental conservation, leaked sex tapes and whether wearing a hijab spares you from catcalls.  Aisha Nazim who voiced her experiences on street harassment in Colombo delivered the latter in English. Recalling an incident when leaving the mosque and receiving sexual advances.
Imaad's ultimate goal is to allow people of different backgrounds to come together in a relaxed and less serious forum. Allowing everybody to share their perspectives and enriching there views. One regular P Senthilnaha said, "It's a good break from the normal routine, I understood most of the talks and enjoyed conversing with new people."