'Adaraneeya Kathawak' celebrates 50 days
View(s):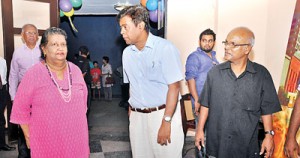 The celebration of 50 days screening of Priyantha Colambage's latest film 'Adaraneeya Kathawak' (A Melody of Love) was held at Lido 3D Cinema Borella with the participation of veteran filmmaker Sumithra Peries and several other stars who played in the film.
The film stars Aruni Rajapaksa, Bimal Jayakody, Udari Warnakulasuriya and Hemal Ranasinghe in main roles and it is produced by Chaminda Gamage and Priyantha Colambage for C2 Creations.
Screenplay written by Uwani Chamika and Priyantha Colambage, camera for 'Adareenaya Kathawak' is by Ruwan Costa, make up by Nalin Prematillake, art direction Manjula Ayagama and music direction is by Udara Samaraweera.
Playback songs are by Chitral Somapala, Amal Perera, Kasun Kalhara, Uresha Ravijhari, Amila Perera and Kushani Sandarekha.