Chalani needs help
View(s):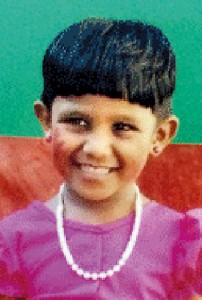 Nine-year-old Chalani Soysa of No.58, Fonseka Road in Panadura has been suffering from an acute heart ailment that requires Intracardiac Repair – Open Heart Surgery that would be performed in two stages. Facilities for this risky operation are not available in any national or private hospital in Sri Lanka.
However, the first surgery was performed at the Chennai  Hospital in India by Dr. K. Sivakumar who had informed the patient's father Nalaka Soysa that the second operation had been delayed and that it should be performed immediately.
The hospital charges for the operation stands at Rs.700, 000 and Nalaka is short of Rs.350,000 that would be added with airfare for the patient and her parents, charges for lodging facilities in Chennai and other expenses.
Nalaka said only Rs.16,000 was available in his bank account, and that he had no other means to meet the expenses of the operation other than depending on public charity.
Chalani's parents Nalaka Soysa and Shiranthi Harshani Gamage most humbly request the public for assistance to save the precious life of their daughter.
Donors may credit their funds to A/C No. 8124458 maintained at Bank of Ceylon Panadura Branch or A/C No. 102657129083 maintained at Sampath Bank Panadura Branch.