SL Shooters win 18 Gold, 9 Silver, 11 Bronze at IMSSU Championships
By Lakshman Ranasinghe
View(s):

Sri Lanka's (SL) National Shooting team made their motherland proud by winning 18 Gold, 9 Silver and 11 Bronze medals at the International Metallic Silhouette Shooting Union (IMSSU) Shooting Championships 2016 held in South Africa.  For the first time in SL's Shooting history, a total of 38 medals were won in an international event. SL's Shooters won 5 individual events and 1 team event and were placed 1st and 2nd Runners-up in a number of other events.
IMSSU Shooting is a Sport in which metal silhouettes of different sizes are shot at from various distances, using high powered, small and big bore rifles and pistols and air weapons. The Sport requires skill and precision, and suitable ammunition and firearms.  The Champion SL team of 8 Shooters, included 5 from the SL Army and 3 others, including a junior Shooter from St. Thomas' College (STC), Mt. Lavinia, representing clubs affiliated to the National Rifle Association.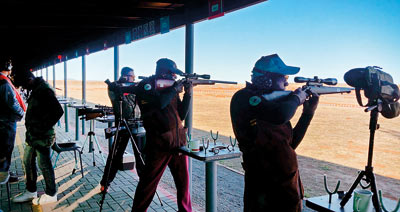 136 Shooters from Australia, South Africa, France, Austria and Finland participated in this 14-day major Shooting Championship worked off at the Bloemfontein Shooting Range, under freezing conditions to which our local Shooters were definitely not accustomed to.  Apart from having to brave 'alien' weather, the SL Shooters were severely handicapped by the lack of proper firearms and ammunition to participate in quite a few of the events. It was sad to note that the cost of approximately Rs 500,000 per Shooter, had to be borne by the Shooters themselves.
Due to lack of proper firearms, the SL Shooters concentrated mainly on Small Bore Rifle, Light and Silhouette and Small Bore Rifle open sights and Silhouette events. It was heartbreaking to note that the SL Shooters were compelled to buy ammunition and hire firearms in South Africa using their own funds, to participate in some of the other events they were confident of success.  Given adequate and proper resources, and sufficient funding, the SL Shooters could have excelled in many other events to be at the top pf world shooting.
Results:
Small Bore Rifle- Light: Cpt P.K.J.S. Gayanga – 1st Overall – Gold
Small Bore Rifle- Silhouette: Cpt P.K.J.S. Gayanga – 1st Overall – Gold
Small Bore 2 Rifle Aggregate (Light & Silhouette)- Individual: Cpt P.K.J.S. Gayanga – 1st Overall – Gold
Small Bore 2 Rifle Aggregate (Light & Silhouette)- Team: 1st Overall – Gold
Big Bore 2 Rifle Aggregate (Hunting & Silhouette): 3rd Overall – Bronze
Small Bore Rifle – Light – Open Sight: Captain P.K.J.S. Gayanga – 1st Overall – Gold, Major C.S. Ratnayake – 3rd Overall – Bronze, I. Abeysuriya (STC)- 2nd Junior – Silver
Small Bore Rifle – Silhouette – Open Sight: Cpt P.K.J.S. Gayanga – 1st Overall – Gold, Major C.S. Ratnayake – 2nd Overall – Silver
Warrant Officer N. Weerasinghe – 3rd Overall – Bronze, I. Abeysuriya (STC)- 2nd Junior – Silver
Small Bore Sport Handgun Production: Brigadier D.S.D. Welikala- 3rd Overall – Bronze
Production Air Pistol Standing: Major C.S. Ratnayake – 3rd Overall – Bronze