Mahamaya's mermaids rule the pool for 18th consecutive year
By Aubrey Kuruppu
View(s):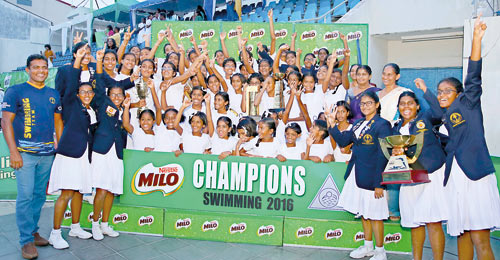 Kandy's premier Buddhist Institution for girls, Mahamaya College, has the proud, unmatchable achievement of winning the 43rd Sri Lanka Schools Age Group Girls' Swimming Championships worked off at the Sugathadasa Stadium Pool for the 18th consecutive year. Accumulating 559 points all told, they easily outstripped nearest rivals Visakha Vidyalaya. St. Joseph's have done so for 13 consecutive years. But to win it for 18 years beggars belief.  A school with a student population of around 4,200, Mahamaya has, in addition to Swimming, done well in Sports such as Netball, Hockey, Basketball, Badminton, Table Tennis and Chess.
However, Swimming has really caught the fancy of the girls and, according to Principal Indra Wittanachchi, there are almost 40 students attending Swimming practices in the Under (U)-9, 11, 13, 15, 17 and 19 age groups.  The thirst for success began in 1999 and, mind you, at that time they conducted their practices at the Trinity College Pool. A Swimming pool of their own became a reality on September 22 the following year. Mahamaya's Swimmers haven't looked back since.
The School's authorities readily acknowledge the contribution made by their first coach, U.H. Pemlath. It is his brother U.H. Sugath who took over from him, who has contributed in no small measure to this unprecedented success of the Swimmers.  Hard, dedicated training is the secret of their success. The Swimmers point out they obtained a lot of points from the Relays. This was possible because of the excellent teamwork. In fact, they won championships in the Under-15, 17 and 19 age groups.
Sathushimi Dewyanjali really excelled in the Freestyle, Butterfly and Individual Medley in the U-19 group. Methmi Anjana was another who was outstanding.  In the U-11 category, Kalani Ekanayake had won the 50 and 100 metre Freestyle events. Nilupuli Medegama won the U-13 50 and 100 metre Butterfly events.  Mahamaya did particularly well in the U-15 group where Onethra Weerasinghe won the 50 metre and 200 metre Backstroke events. Maheshika Hewage won the 100 and 200 metre Butterfly events.
The 50 metre Butterfly and Freestyle events were claimed by Devindhya Jayawardena.  Uththamala Silva, a SAF Games representative, established records in the U-17 200 metres (2.17.65) and 400 metre (4.56.58) Freestyle events.  The undoubted star of the meet, Vinoli Siriwardena, won the 200 metre Backstroke, 100 metre Backstroke and 50 metre Backstroke events in the Senior U-19 group. Nisali Dissanaike won the 100 and 200 metre Breaststroke in this category.
Amodika Sumitraarachchi, Gayatri Panabokka, Imesh Malalasekera and Heshani Madigasekera are some of the outstanding swimmers who brought credit to the school in their time.  The part played by Chintha Ruwan Pathirana, a livewire towards the development of Swimming at Mahamaya should not be underestimated.  Mahamaya Swimmers owe a huge debt to former Principals R.W.I.K. Ratnayake and W.H.B. Wijesinghe. At present, Deputy Principal Visakha Herath, Teacher-in-Charge Dhammika Siripala and Dhammika Mahawattage do their utmost to keep Mahamaya's Swimming machine purring smoothly.