Hasitha, Nuwanthika top Slicers at mid-year C'ships
By Lakshman Ranasinghe
View(s):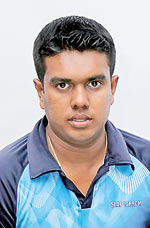 Midyear Novices Carrom Championship 2016 came to a close at the Sri Lanka Carrom Federation Headquarters as Hasitha Anuruddha of the Sri Lanka Air Force and Nuwanthika Sanjeewani of Mahamaya Vidyalaya clinched the Men's and Women's championships respectively.  During this popular event in the carrom calendar there were over 350 novice slicers island-wide was conducted in 4 categories — Men's and Women's Singles and Men's and Women's Doubles.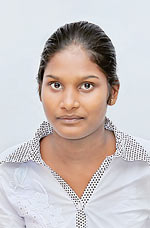 In the Men's singles finals Hasitha Anuruddha scored a close 2-0 victory over schoolboy Abishek Jayawardhana from Dharmapala Vidyalaya, Pannipitiya. The Women's singles finals too became a close struggle as Mahamaya Vidyalaya, Nugegoda schoolgirl came out with excellent slice work to defeat M. Chitradevi of the Sri Lanka Army 2-0.
Apart from the World Championship events that Sri Lanka take part carrom is a sports discipline that had produced a world champion Nishantha Fernando at the 2012 World Carrom Championship.  The standard displayed by these novices opens a window to gain national and international recognition in the near future and will give them a chance to show their prowess in the National Sports Festival.
Overall final results: 
Men's Singles: Hasitha Anuruddha (Sri Lanka Air Force) beat Abishek Jayawardhana (Dharmapala Vidyalaya, Pannipitiya) 2-0 (25/15, 25/21)
Third Place: A.C.M. Aslam (YMCA, Kandy)
Women's Singles: Nuwanthika Sanjeewani (Mahamaya Vidyalaya, Nugegoda) beat M. Chitradevi (SL Army) 2-0 (25/24, 25/23)
Third Place: Tashmila Kavindi (Mahamaya Vidyalaya, Nugegoda)
Men's Doubles: Suraj Maduwantha/Shashrika Muthunayake (Price of Wales College, Moratuwa) beat Ishan Kannangara/Charith Madushanka (SL Army) 2-1 (25/15, 10/25, 25/20)
Third Place: E.A.D. Indrajith/K.W. Danuka
Women's Doubles: Rebeca/Dalrine/Suchini Shashikala (SL Airforce) beat Sadini Nirasha/Nethma Sewmini (Mahamaya Vidyalaya, Nugegoda) 2-0 (25/8, 25/18
Third Place: Nuwanthika Sanjeewani/Tashmila Kavindi (Mahamaya Vidyalaya, Nugegoda)