Cook's England gets their comeuppance
By Aubrey Kuruppu
View(s):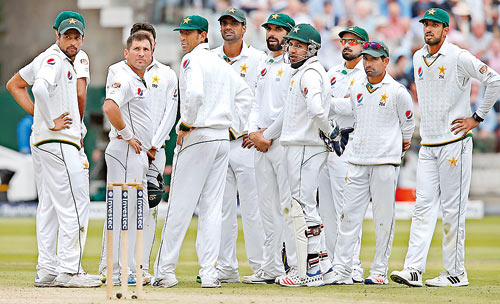 Were they living on borrowed time? That question must be posed after England were defeated by Pakistan by 75 runs at Lords a few days back. It is true that England were minus Anderson and Stoles- 2 huge losses. Yet, the English side could and should have done better.  Some aspects of their performance must obviously come under scrutiny. Beginning at the top, it continues to amaze how the scorer of more than 10,000 Test runs keeps failing in the corridor of uncertainly. In the 1st Innings, having proceeded to 81 in his accustomed gritty, obdurate manner, he was dragged out wide by Amir, and the inside edge cannoned into the stumps. If he was aware of where his off stump was, he need not have played at it.
Root is different. A gifted strokemaker, he sets the pulse racing when in full flow, as few others do. Yet, he seems, currently, to lack the stomach for the fight. His first 30 or 80 were obtained beautifully. At 41, he was becalmed and strokeless for 3 to 4 overs, as a result of Shah's strangling accuracy. His response was to essay an ungainly heave in the direction of cow-corner. Needless to say, he perished.  In the second dig, he opened with a delectable backfoot force for 4. A classic frontfoot drive for 4 followed. Then, unable to break free against Rahat Ali, he followed a juicy half-tracker and smashed it down the throat of square leg. The fielder had been moved there for the pull.
Was Root unaware of the field placement? If the fielder had been put there surreptitiously, what was his partner doing?  Hales, still to get a Test 100, seems to bat in the 1-day mode, where he has been marginally more successful. His dismissal in the 2nd Innings smacked of thoughtless carelessness. Chasing 283, he had just seen his skipper, England's Rock of Gibraltar, fall. His duty was to stay put and establish a partnership with Root. But Hales, without moving across much, nicked an intended cut to Hafeez at slip. The doggedness and defiance exhibited by past greats such as Barringon and Boycott have certainly not rubbed off on some of these batsmen.
Is this the result of too much involvement in the ODI and T20 formats? James Vince, a gorgeous driver on the offside, has yet to come up with a 50 after 8 innings. Jettisoning him would be unfair right now. Given time, he could fit the bill. Yet, he too went after a Ritaz delivery that was heading towards first slip, and nicked it to second.  It is doubtful if Moeen Ali's offspin would get him a place in a Sri Lankan side as an offspinner. England opting to persist with him shows the paucity or, absence of genuine spinners in the English game. Two 100s, both against Sri Lanka, have guaranteed him some longevity. His dismissal, moving down the pitch to Capt Shah to St. John's Wood Station, was hilarious.
From England's point of view, the performance of their last frontline batter was tragic. Obviously, he should be axed. However, the balance of the side would dictate otherwise.  Ballance showed some ingenuity and skill in the way he tackled the Pakistani bowlers. He made them think. His dismissal, to a prodigiously turning legbreak from Shah, did not do him justice.  Enough of brickbats. Now for a bouquet. Chris Woakes shows the tenacity and obdurateness of English players of old. Even in the series against Sri Lanka, though he may have been overshadowed by Anderson, Woakes showed he was on the way up.
He ran in hard, touched 140 mph and bowled a lot of effort balls. He had his reward at Lords (11 for 102) where he was by far the best English pacie on view. His batting has come up apace, with his knocks of 35 and 26 (after his 66 against Sri Lanka) showing he's approaching allrounder status.  The batsmen, in particular, have to pull up their socks and barter their wickets more dearly. Most importantly, they have to work out a counter to the wiles of Yasir Shah. To be sure, he's not quite in the Abdul Qadir class, though he may eventually get there. What he does is to strangle the batters and create pressure with his probing accuracy.
Shah continues in the line of great leg spinners starting with Intikhab Alam (the manager on tour) down to Mushtaq Ahmed, Abdul Qadir and Danish Kaneria. Just a thought. How does Pakistan come up with quality left-arm quicks and legspinners? Contrast them with the assembly line of fast men who turned out for the West Indies in the late 70′s and 80′s. Would you prefer instant death or to be killed softly?