Brayan crowned King of Circuit at Red Bull Kart Fight 2016
View(s):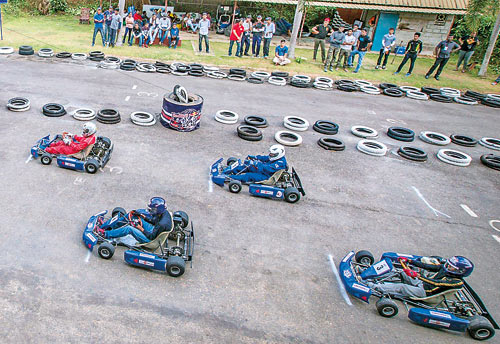 After a weekend of bustling mechanics, revving engines and adrenalin rushing through veins, Brayan Perera took pole position at the 2016 edition of Red Bull Kart Fight – Sri Lanka which was held at the Kanway Autodrome in Mirigama on July 9 and 10.  "The qualifiers were challenging because I ran a wet lap. I never thought I'd make it through the rain, but luck was on my side. Once I made it through to the final race, luck stayed on my side when I was given the top of the grid. I knew if I kept my cool through those last three laps, I would win. And here I am. I can't believe it – the whole experience was amazing: the organisers, the drivers and everyone involved."
Red Bull Kart Fight is an amateur karting competition that gives drivers across the country the chance to experience the smell of burning rubber for real. After two editions in 2012 and 2015 respectively, Red Bull Kart Fight returned to Sri Lanka in 2016 as the only international pro-karting event of its kind. Like the previous edition, karters started their engines on the tropical circuit of the Kanway Autodrome as they raced through a total of 44 rounds of qualifiers before Brayan beat over 70 karters with a winning lap time of 27:959 seconds.  "The racers adapted to the wear-and-tear of the track extremely well," said Shane Gunawardena of Kanway Autodrome in Mirigama.
"Running the karts for two days in a row pushes not only the engines and the tarmac, but also the racers themselves. Once again, Red Bull has given avid Sri Lankan petrolheads an opportunity to test, hone and showcase the immense local racing talent our island has to offer."  As national champion, Brayan finished on top of the podium with a whopping Rs. 200,000 in prize money. In second place, Dinesh Pathirana was also awarded with Rs. 100,000 while third place, Isimal Fernando won Rs. 50,000.  When asked about his plans with the prize money, Brayan responded, "I'm going to give it back to my parents, because they've been spending so much on me!"