Abeysinghe and Raheem ready to make waves
By Susil Premalal
View(s):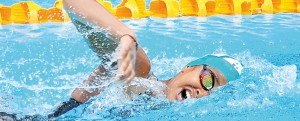 In the Sri Lanka contingent to Rio Olympics, the highest representation is from Athletics. Besides athletics, the next is Swimming where Matthew Duncan Abeysinghe and Kimiko Shihara Raheem will battle it out with the world's leading champion swimmers.  Mathew qualified from Olympic 'B' grade timing and Kimiko is a wild card entry. In history of Sri Lankan swimmers at Olympics since 1948, Matthew is the first swimmer to get qualified to take part in the Olympics. Abeysinghe's specialized event is 100 metres Free style. His best timing was 50.53 seconds in the Age group Championships in Hong Kong last month. Kimiko's pet event is 100 metres backstroke.
Mathew was born March 19, 1996 in Hazelton, Pennsylvania, USA. His coach throughout was his father Manoj Abeysinghe. His brother Andrew, Kyle and Dillon all represented Sri Lanka. Together they hold the Sri Lankan national record for the Men's 4×50 Medley Relay. In the last South Asian Games in India, Matthew bagged 7 Golds, 2 Silvers and 1 Bronze medal. He won the 7 Gold medals in 50 metre freestyle, 200 metre freestyle, 400 metre freestyle, 100 metre freestyle, 400 metre medley, 200 metre medley and 4x100m free style.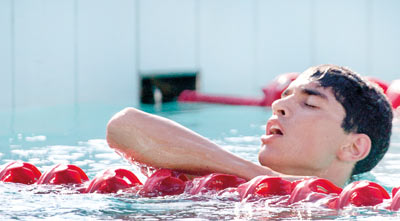 Matthew is the current Sri Lankan record holder in the 50 metre free style (23.62 seconds), 100 metre freestyle (50.53 seconds), 200 metre freestyle (1: 52.45 seconds), 400 meter freestyle (4: 03.90 seconds), 1500 metre freestyle (16: 23.61seconds ), 50 metre back stroke (26.94 seconds), 200 metre individual medley (2: 07.33 seconds), 400 meter individual medley (4: 42.22 seconds) and 100 metre butterfly (55.32 seconds).  Matthew also created history in Sri Lankan Swimming at SAG, by winning highest number of Gold medals.
He won 7 in this years game's in India and broke the 25 year record held by Julian Bolling who finished with 6 Golds at the 1991 games in Colombo. Further he has represented Sri Lanka in 13 international swimming competitions. He was the first Sri Lankan and only male swimmer to hold all freestyle national records.  Matthew's father Manoj, as the coach stated. "Matthew can be labeled as one of the best swimmers emerged from the rest. In the Olympic history Sri Lankan swimmers has represented eight Olympics.

They are 1952 (Helsinki), 1960 (Rome), 1984 (Los Angeles), 1988 (Seoul), 1992 (Barcelona), 1996 (Atlanta), 2000 (Sydney), 2004 (Athens), 2008 (Beijing) and 2012 (London). Of all this, Matthew is the first swimmer to represent Sri Lanka after getting qualified. From his childhood days Matthews showed desire and capability in swimming. Both of our aim is to finish the 100 metre freestyle in 49 seconds. I anticipate Matthew will achieve this target laid down. These days I train Matthew and always behind him.
After the Olympics he will be back in USA to concentrate on studies" . Kimiko Raheem was born on January 28, 1999. In the recently concluded 12th South Asian Games (SAG) in India she performed superbly to bag five Golds, setting new games records. She was awarded the Best Female Athlete of the Games by the Bangladesh Sports Press Association (BSPA). She clinched Golds in 50 metre back stroke, 100 metre back stroke , 200 metre back stroke, 50 metre freestyle, 100 metre freestyle and a Silver in 4x100m freestyle.
Kimiko also received the Presidents Award for the highest female medal winner of the country recently. Kimiko is the sister of Mayumi, who is another swimming sensation. The Raheem family members are good swimmers. Mayumi, represented the country at the Beijing Olympics in 2008. Machiko, the next sister too is a good swimmer. In the Olympic swimming history of Sri Lanka since 1952 (Helsinki), Kimiko and Mayumi were the only two sisters to participate in Olympic games. Kimiko (17) also is the youngest swimmer to represent Sri Lanka in Olympics.
Kimiko presently trains in Thailand. In a short time she will back in Sri Lanka to join the Sri Lanka team contingent to Brazil. The Sunday Times spoke to her father Airline Captain Mohammed Ramzee Raheem and mother Ranjika."These days Kimiko is hard at training in Bangkok. Her plan is to do her best in the chosen event. She missed the Olympic qualifying timing by fraction of seconds. According to the FINA (Fe'de'ration Internationale De Natation or the Organisation for administering International competition in Aquatics) point system the difference between MatThew and Kimiko was just a single point.Her official Olympic coach too will be Manoj Abeysinghe."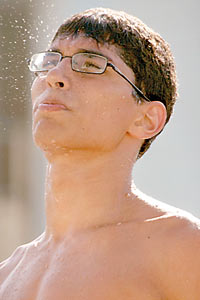 Sri Lankan Swimmers at Olympics:
Julian Bolling, is the only Sri Lankan swimmer to participate at three Olympics. It is a national record.
1952 – Helsinki
Diving : Mens 3m Board – Allan Smith
Swimming – Geoffrey Marks
1960- Rome
Swimming – Tony Williams
1984-Los Angeles
Swimming – Julian Bolling (400m free style, 1500m free style ,400m individual medley)
1988-Seoul
Swimming – Julian Bolling (400m free style, 400m individual med ley) Deepika Chanmugam (100m breaststroke, 200m breaststroke, 200m individ ual medley)
1992 – Barcelona
Swimming – Julian Bolling (200m free style, 100m and 200m
butterfly)
1996-Atlanta
Diving : Men's 3 m Spring Board – Janaka Biyanwila
2000-Sydney
Swimming – Conrad Francis
(100 m butterfly)
Theekshana Rathnasekera (50 m free style)
2004 -Athens
Swimming – Conrad Francis
(100m but terfly) Menaka De Silva (50m free style)
2008-Beijing
Swimming – Daniel Lee (50m free style)
Mayumi Raheem (100m breaststroke)
2012-London
Swimming – Heshan Unamboowe (100m backstroke ) Reshika Udugampola (100m freestyle)
Matthew Duncan
Abeysinghe
Education
 Asian International School (Colombo, Sri Lanka)
Activities/Awards
Sri Lankan National Team
 Represented Sri Lanka at 13 International Competitions
 Captained the entire Sri Lankan contingent (all sports) at the 2014 Youth Olympic Games in Nanjing, China.
 4th place in the 400 FR at Youth Commonwealth Games in 2011
 Won a silver medal in the 100m Freestyle at the 6th Asian Age Group Championships.
 Won a gold and a bronze in the 400 and 200m freestyles at the Singapore Grand Prix (2012).
 Won a Bronze medal in the 400m Freestyle at the Malaysian Open (2012)
 1st Sri Lankan to win a medal in swimming at Asian level:
Bronze medal in the 100m Freestyle at Asian Youth Games inNanjing, China (2013).
 Qualified for Semi-Finals (13th overall) in the 100m Freestyle at Youth Olympic Gamesin Nanjing, China (2014)
 1st and only Sri Lankan to qualify for Olympic Games in swimming:
Hong Kong Age Group Championships, 100m Freestyle 50.53 (2016)
Sri Lanka Aquatic Sports Union
 1st Sri Lankan and only male swimmer to hold all Freestyle National Records
 Holder of 18 National Records (Short Course and Long Course)
 Has been swimmer of the meet at
Sri Lankan National Swimming Championships (Short Course and
Long Course) nine times.