"Oh no she doesn't work, she's just a Housewife
View(s):

"Phrases of this nature are so commonplace and we hear variations of it so often, that even though it sounds terribly gauche, people are unaware of the misleading connotations of the statement and often people (usually who do not fall into this category) rarely object to it. Ironically, I even hear derivatives of it being proclaimed by self-effacing and yet incredibly hard working women that inhabit the same title. The ones who put in all the effort and endless hours and just get on with their day, rarely trying to correct the misconception that their efforts actually go an incredibly long way, in not only furthering the fortunes and successes of their own households, but also the national economy itself.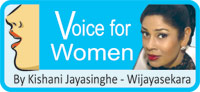 According to Katrin Benhold, writing for The New York Times in 2010, "Their daily chores of cleaning, cooking or raising their children have always been ignored by national accounts. If a man marries his housekeeper and stops paying her for her work, G.D.P. goes down. If a woman stops nursing and buys formula for her baby, G.D.P. goes up.In a debate that counts women catching up with men in education and the labour market in terms of raising productivity and economic growth, stay-at-home moms are valued less than ever. This is so, despite the fact that from Norway to the United States, economists put the value of their unpaid work ahead of that of the manufacturing sector."
A generation ago perhaps, there was more of a tradition of being a stay at home mother and wife. It was more common to see and it tended to be more of the rule than the exception to see a grandmother of today working a regular 9-5 office job. Not to say that there weren't women who did, but it was certainly not the norm, nor traditionally the role women played. Staying at home to care for your children, husband and look after your home was a noble and almost common profession. Fast forward a generation, and the picture is quite different. From a very young age, young women – particularly from cities and/or with visionary parents, are encouraged to study and begin building the idea of a career for themselves outside the home. Be it to follow the path of traditional professions, slightly less conventional ones or even to forge new paths into the world of careers and vocations.
So why then is there such little recognition of the sheer amount of work, energy, time and effort that goes into successfully fulfilling the role of a traditional stay at home mother and wife? In 'The Stigma of being a Housewife', Elissa Strauss observes that "Housework has always been a sticky spot for feminists. To some, it's a prison from which women have to free themselves. For others, including countless stay-at-home moms and professional domestic workers, it is work that has never earned adequate respect.This confusion over housework was present in feminism's second wave. Betty Friedan sought to liberate housewives from their domestic duties, while Selma James fought for wages for housework. And the ambivalence is an issue to this day.
The opt-out revolution, in which women were choosing to exit the professional world and become full-time mothers and wives – whether real or a hyped trend – created a heated debate about whether leaving the workplace is a backwards move. All the while, there has been a rise of groups working on behalf of domestic workers who are demanding that housework be considered real work, and are pushing for fair legislation that offers protections to these workers. Add to this the fact that women who don't opt-out and try to "have it all" have been shown to be unhappy, and that basically the only women who currently label themselves housewives are tawdry TV characters, and the room really starts to spin."
The trend towards shedding the label of 'Housewife' has been gaining momentum for some time and according to Katrin Benhold, there is a near extinction of 'Housewives' in Sweden and a conscious lack of reference to the term in Norway. She writes in The New York Times that when the Swedish journalist Peter Letmark tried to track down a housewife for a series on 21st-century parents in the newspaper Dagens Nyheter in 2010, he failed."Housewives," he explained, "are a near-extinct species in Sweden. And the few who still do exist don't really dare to go public with it."
She goes on to state, that in neighbouring Norway, the Housewives' Association changed its name to the Women and Family Association as its membership plummeted from 60,000 to 5,000. "The reference to housewife was just too embarrassing," said the feminist economist Charlotte Koren of the Norwegian Institute of Social Research.
Personally, I grew up in a household where my mother worked full time. Perhaps that is why I never questioned that when I grew up, I would do the same – it was all I ever knew. Since getting married, having children and running my own home – and doing so exclusively for even just a few months until each of our children were a couple of months old, I came to the realisation that not only is being a Home-maker an all-consuming job, it was also probably the most difficult job of all. I for one could not wait to get back to 'work' (outside my home), so that I could once again begin to care for my own sanity in addition to caring for my family, and incredible family support allowed me to do so. Not every person may have the choice, nor feel so inclined, but I considered myself very lucky to have had the choice to make that decision.
The time we – as mothers and wives – get to spend with our families, building and nurturing them, is precious and never to be compromised if at all possible. However, what would probably make it easier all round, is if the other members of the family and society in general, recognised the sheer volume of work that goes into making a home run smoothly. That the full time 'Housewife' of the household, is also the sustainer of life in almost every aspect. She is not only a wife, but often a mother, always a daughter, daughter-in-law, chauffeur, nanny, confidante, cook, nurse, all round problem solver, comforter, counsellor, tutor, caretaker, bouncer, waitress, alarm clock, handy woman, cleaner and disciplinarian; who doesn't get days off, sick leave, holidays; is on call day and night and does not receive a traditional monetary payment at the end of a 24 hour working day, 365 days a year.
This way, perhaps the next time someone thinks a woman is "Just a Housewife", they may also have a fleeting notion that she is also, in fact, a living, breathing "Super Woman".
Comments, suggestions and contributions are most welcome. Confidentiality guaranteed. Please email: KJWVoiceforWomen@gmail.com