Much more than just tea for two
View(s):

Lankan-born chef Peter Kuruvita talks to Smriti Daniel of his mission to infuse tea into gourmet cuisine
Peter Kuruvita still remembers the day he received a box of 32 teas from Dilmah. It had been a few years since he had met Merrill J. Fernando, and there were still a few to go before Dilmah would attain its full stature as the producer of some of the world's finest teas. "MJF came to a restaurant where I was the head chef," Kuruvita tells the Sunday Times. Having seen a Sri Lankan name on the menu, the tea producer wanted to meet the man in the kitchen. The two got on so well that it wasn't long before Kuruvita was talking about the potential of incorporating tea into gourmet cuisine with MJF's sons Dilhan and Malik.

At the time that the box of teas was delivered to Kuruvita's doorstep, he didn't know of a great many uses for tea in fine dining. The examples he was aware of were already hundreds of years old – the marbled eggs boiled in tea that was a popular snack throughout South East Asia, and Lahpet, a Burmese delicacy that was made with fermented or pickled tea leaves. Re-imagining tea as an ingredient in contemporary cuisine was going to require exhaustive experimentation. Kuruvita already busy, was frank with Dilhan about the constraints on his time. The solution they hit upon was to become something of a tradition.

"I suggested to him we pick eight chefs and send them four boxes of tea each and get them to come up with their own recipes. Then he came up with the idea of Chef and the Tea Maker," says Kuruvita. Kuruvita found the right people, Dilhan organised a trip to Sri Lanka, and the trip kicked off what he was pleased to find was a uniquely successful collaboration. The group travelled extensively around the island, sampling local cuisine and seeing for themselves every stage in the production of tea. "We wanted them to understand tea and they became the ambassadors for tea-based culinary cooking," says Kuruvita, adding that there are now some three cook books out.

In Colombo to launch 'A Season of Deliciousness,' at Dilmah's t-Lounge on Chatham Street, Kuruvita says the new tea-inspired menu they are releasing in the company's lounges across the world, has its roots in those early years. The menu proposes pairings of both sweet and savoury dishes with tea. Kuruvita's signature chocolate pot is billed as 'a riot of flavour and texture,' incorporating crystallised ginger, chilli and nougat, and is served with single origin Ceylon tea; the buns for the chicken burger are infused with Ceylon Souchong smoked tea, while the crisp, sweet churros are best savoured with sticky caramel toffee sauce and gourmet black tea.

Matcha is a motif in itself, appearing in macaroons, an opera cake and an éclair that proudly touts its ingredients with a bright, spring green glaze. Kuruvita will tell you cooking with tea is an art. For starters, it isn't enough to simply brew a cup and toss it into your dish. Instead, the chef says he has spent years understanding how to best incorporate it into food so that it enhances other flavours. "It's about understanding the chemistry of it all," he says, explaining that tea reacts differently to protein, fat and alcohol. Bake it for instance, and you will love the aroma wafting from your oven, but you might be disappointed to find the final product barely tastes of tea. Smoking the tea leaves, while hugely popular, isn't something Kuruvita himself is enthusiastic about – "You burn the leaves, and you lose the flavour," he says, simply.

Some of his earliest recipes incorporated tea in desserts – Earl Grey, for instance, gave pastry cream a lovely, subtle depth; a rosehip and hibiscus sorbet was a cold, sweet quenelle of vivid colour on the plate. However, once you understood how to infuse tea into food, it became a wonderful addition to savoury dishes as well. Dilmah's Lapsang Souchong would add a smoky note to Indonesian Oxtail Soup, or produce a sweet fragrant note in the babaganoush served with pan-fried Barramundi. Even here though, timing and quantities were critical, Kuruvita realised. If you didn't handle the tea right, it could turn the shellfish consommé murky or disappear into a jelly.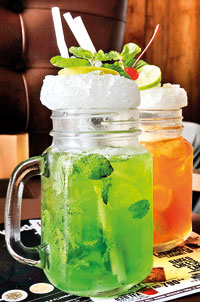 Today he sees so much innovation in how tea is being used – in everything from handcreams to artisanal beers. Sitting in the Dilmah T-lounge, he asks me to look behind at a wall covered in different flavours and blends of tea. To him they are all potential dishes, simply waiting to be re-imagined.
Growing up, Kuruvita remembers that they drank a lot of tea, and that in keeping with a long tradition it was always sweet and milky. But his own culinary imagination is challenging that, introducing Sri Lankans to not only new teas, but new ways of consuming this ancient beverage. He is proud of what his long relationship with Dilmah and the Fernando family has accomplished."We are bringing tea gastronomy into the 21st century," he says.