Simple cinema and great hopes
Debut film made in Italy by Suranga Katugampala
View(s):
By Susitha R. Fernando
Amidst boasting of a multimillion rupee, biggest budget, most expensive filmmaking, there is cinema that is made for the sole purpose of making a movie. This genuine cinema is for the one and only purpose of telling a story that is needed to be told somehow, somewhere and to someone. This deep desire to tell a story cinematically has given way to great cinema though they do not have the pride to boast about the big budget, latest technology and massive advertising gimmicks. 'For a son' (Puthekuta), a reflection of 'simple cinema' made by young Sri Lankan filmmaker Suranga Deshapriya Katugampala in Italy is such an attempt.
This genuine maiden attempt for filmmaking was hailed at the 52nd Pesaro International Film Festival 2016 which was held from July 2 to 9. The film together with its main actress Kaushalya Fernando won special mention from the Jury which stated "For a Son, the film of Suranga Deshapriya Katugampala: for the emotional story of an intimacy that imposes itself on the screen as an authentic social portrait; for it's realism that fades into a seductive symbolic map; and for the rendition of the leading actress Kaushalya Fernando who expresses through her anxious breathing and silent glances the fatigue of the path to full multiculturality. "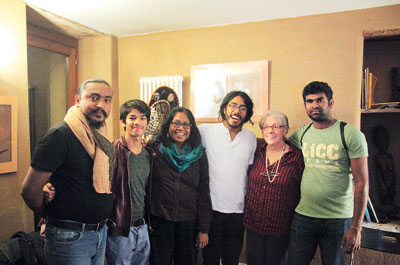 Together with Kaushalya, others in the main cast are Julian Wijesekara and E Nella Pozzerle. The film is a story about the Sri Lankans who go to Italy or any European country for reasons more than making a fast buck. It discusses the cultural dilemma that they face and specially how it is going to affect their children, the next generation.
'For a Son' revolves around Sunita, a middle-aged Sri Lankan woman who lives with her teenage son on the outskirts of a northern Italian city where she works as a caregiver. The relationship between mother and son is fraught with tension and silence.
Having grown up in Italy, the boy is a cultural hybrid his mother struggles to understand, as she fights to live in a country to which she does not want to belong.
The young filmmaker Suranga Deshapriya Katugampala himself is a son of a mother who migrated to Italy from Sri Lanka. Writing about how the idea about a film had emerged and was carried out, Suranga writes in the Director's Note of the film website, "We talked about this film day and night. How to do it, with whom and how to find the money. Only thing that we were sure of was the deep urgent need to tell a story, to tell 'here we are', 'our story is also your story, a story we all can relate to'."
"A very minimalistic film was born, made with moments of everyday and household life, at times repetitive. A story of any other province in northern Italy. I didn't want to write any precise dialogues. Everything was improvised during the shooting, adopted by actors to suit what they were feeling at that time. The words in the end were chosen by them," says Suranga explaining how the simple filmmaking took place.
Set in Italy and made with the support of the Sri Lankan community in Verona and Italians themselves, the filmmaking was completely unorthodox. Some crew members were climbing trees to put up lights which was illegal in Italy and stars some even with broken legs were driving miles and miles carrying the rest of the cast and crew in vans.
"The dream of a simple cinema was slowly realising. Meanwhile we were riding the happy wave of telling our story. Since its drafting, this project has attracted many people who were willing to offer a ride, a plate of rice or a place to stay. We united our forces, in front of a thousand problems, Sri Lankans and Italians, because this was the story of every one of us," Suranga noted.