Platform for like minds to connect through dance
View(s):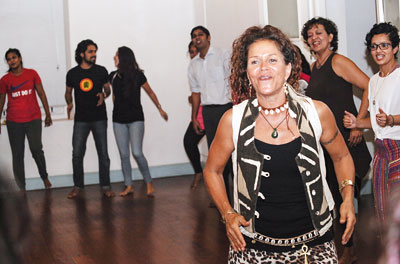 Text and pictures by Dilantha Dassanayake
Global movement facilitator Malaika MaVeena D'arville recently conducted an African Chant and Dance workshop at the Prana Lounge.  Malaika is of Canadian Jamaican decent with a wealth of knowledge in ancient earth people's rituals and customs. She has dedicated her work to helping people connect their consciences to planetary senses, in an other wise hectic work oriented world where so many find themselves segregated and alone.
The Prana Lounge is a fitting venue for such an experience as it use to be an alcohol and drug rehabilitation centre. One of the curators of the space Annie De Silva describes the space "as a platform for healing, wellness, rejuvenate and for people of like minds to communicate"
The session begins with the group joining hands and gathering in a circle. Malaika begins by telling the group that tribes in Africa always begin by paying homage to their ancestors. Thus everyone states their names and where their background comes from.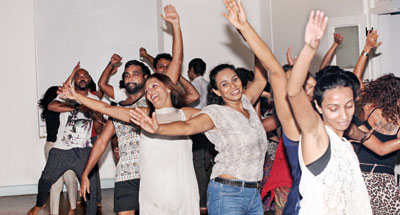 For the first exercise the group are then taught a simple few words "ey ey mama ey ey baba" which Malaika describes as universal to denote ones mother and father. Using bells that are attached to her ankles she stamps her feet while the group recites the simple phrase standing still. They build up a rhythm and are also taught to raise their hands to the sky and the earth, honouring the spirits. This melodic chant will instantly transport you to a small village in the Maasai Mara.
There is a primeval connection to the people around and the earth one's feet are stamping on. The group are then shown more complex chants that leave them tongue twisted and in stiches of laughter. The rhythm of the dances becomes morephysical as participants have to make their way to the other side of the room to signify one tribe meeting another. After everyone becomes more accustom to each other the intricacies of the dance gets more energetic, movements are made with hands and feet around the wooden floors.
The workshop is less of an exer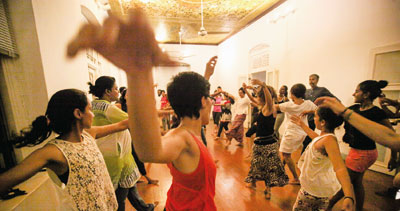 cise as a reconnecting with how we once were, a simpler era where we did not have the stresses and strains of modern life. Malaika says she's had nothing but positive responses " people of Colombo have come up to me and told me how this was a real need. It's a way of opening up to people while dancing without alcohol."
She will conduct a few more workshops and full details of events and times will be made available at the Prana Lounge.