Fifty years of Annesley Malawana: Journey from Moonstones to Super Chimes
View(s):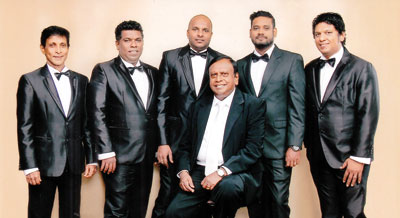 By Sanath Weerasuriya
Popular singing sensation Annesley Malawana will be celebrating his Golden Jubilee in the Sri Lankan music scene with a grand musical evening at the BMICH on 6th August 2016 starting at 7.00pm.
Fifty years of 'Sinhala Pop' with Annesley will feature some of the top names in the Sri Lankan showbiz scene. The main attraction focuses on the original members of the Annesley's old bands – Moonstones, Golden Chimes and Super Golden Chimes.
The Grand Anniversary Show will feature some of the original members of the Moonstones with Indrani Perera, original members of The Golden-Chimes Lankika and Chanaka Perera, the original lineup of Super Golden Chimes – Dixon Goonaratne, Rukshan Perera, Paul Pereira and Sunil Malawana.
A medley of Calypso will perform by Priya Peiris of La Bambas fame, Errol Fernando of Los Cabeleros fame, Milroy Dharmarathne of 'Dharmaratne Brothers' fame, Christine Gunawardena and Merrill Raymond. Special guest stars at the Concert will be Keerthie Pasquel, Corrine Almeida and Chitral Somapala.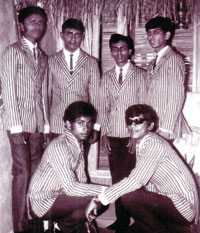 Annesley, an entertainer, who has mesmerised audiences not only in Sri Lanka but in many countries around the world made his name with the band Moonstones in 1966. He fame for over five decades and has made a lasting impact with music overs. Annesley Malawana is a household word today and if one were to go back to history it is a story that is embellished with achievements that speak volumes for a voice that is a God-given gift that cannot easily be matched.
Annesley started his musical career way back in 1966 in Ratnapura. Annesley was introduced to Clarence by Premasinghe Marambe, when Annesley visited his 'Maha Gedara' (Fathers home)in Ratnapura after completing his studies at St. Joseph's College Colombo. They were madly in love with music and Clarence was just beginning to write his new songs and creating music. The duo then met Mr. Sangabo Corea, who was highly impressed with their singing and musical work and named them and the rest of the boys as 'The Moonstones'. The Moonstones were featured on a musical programme called 'Saturday Stars' on SLBC's Commercial Service presented by Vijaya Corea which was aired every Saturday at 9.00pm.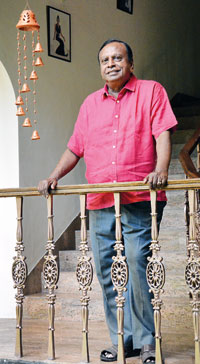 The Moonstones sang 'Mango Nenda', 'Ruwan Puraya', 'Sudu Menike' and 'Muhudu Rella' for the first time on this programme. The song 'Mango Nenda' became an instant hit after this programme and topped the English and Sihala Hit Parades.
The Moonstones were sensational and by this time there was no musical shows anywhere without 'The Moonstones' in it and every song that Annesley handled became a perennial. From Sri Lanka to the Middle East and from Australia to the United States, Annesley sang his way to the audiences in packed auditoriums. Anything and everything that was connected with Annesley became priceless and very much was in demand.
Annesley and Clarence were inseparables as they formed the famous group Super Golden Chimes dominating the musical scene in the 70s singing for Stage Shows, dances, private parties, gigs and weddings. They continued their supremacy with Super Golden Chimes into the late 80s.
After the demise of Clarence in 1996, Annesley formed his own group called 'The Super Chimes' in 2004 and the band is in great demand now for Sing-a-Longs, Stars of 70s Shows, weddings and dinner dances. Musical backing for the 'Annesley Malawana Anniversary Concert' will be provided by the Super Chimes and the MC for the evening will be Dr. Vijaya Corea.
For inquiries and tickets  call 0777744950