Creating a cultural bond with 'Caucasian Chalk Circle'
View(s):

Celebrating 13th anniversary, Janakaraliya creates a new theatre project bridging the North and South through a world renowned play originally made by world renowned playwright Bertolt Brecht.

A translation of Bertolt Brecht's 'Caucasian Chalk Circle' by veteran Sri Lankan dramatist Dr. Kulanthai M. Shanmugalingam, titled 'Wenkatti Wattam' will have its maiden show in Colombo at 3.00 pm and 7.00 pm on July 29 at the University of Visual and Performing Arts, Colombo. The drama was co-directed by veteran dramatist Parakrama Niriella and , a dramatist and lecturer of the University of Jaffna.

The premier of the play was held at Weerasingham Theatre, Jaffna on July 22 and it will be touring around the country with shows at University of Ruhuna, Matara on July 27 followed by Central College, Kilinochchi, Vauniya Central College, Hatton Sri Pada Teachers Training College, Vivekananda Hall Trincomalee and Vipulananda Aesthetic Arts Institution Batticaloa.
Funded by International Fund for Promotion of Cultures of UNESCO, the two phased programme had trained and rehearsed a group of youth from Jaffna along with Janakaraliya drama group to produce a drama in Tamil language and then perform it in several locations across the island.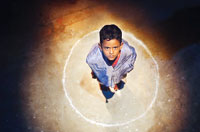 The cast comprised of Sumudu Mallawaarachchi, Selvaraj Leelawathy, Rasaiah Logananthan, Ronika Chmali Rannetti, K. Sathiya Seelan, Ajantha Shanthakumar, S.Niththika, K.Saarangan Sarma, Thilini Nimesha Leelarathna, S.Koutsan , K.Kowresan, Sarath Kumara Banagala, N.Pirabhu, M.Sivaratnam, S.Mahalingam, M.Kumarasivam, Inoka Lankapura, T. Sivanesan, Arosha Tharangani Ranaweera, V.Robinsan, S.Thevaraj, R.Tharsika, S.Umakulan, S.Vithusan, W. Soumi, Madeera Udishani and R. Santhosh.
Technical contribution by Palitha Abelal and Selvaraj Leelawathy – make up, Ajanthan Shanthakumar – theatre lighting design, Thiyagaraja Sivanesan – stage management, Swinitha Perera – costume designer, K.Sathya Seelan – stage settings and properties, Wijitha Hettige – theatre lighting operator, Amila Dinesh Kumara – lighting assistant, S.Vidushan and R.Tharshika – stage assistants, Kamal Kanthi Bogoda -Costume Preparation, Sumudu Mallawaarachchi – music composer and conductor. Rasaiah Loganandan is the assistant director of the drama. 'Wenkatti Wattam' is a production of Janakaraliya Cultural Foundation.