The kind old teddy bear
View(s):

There was once a little teddy bear called Fluff, who lived in a
playroom. He was kind to all the toys and they liked him very much. He belonged to a little girl called Lucy. She always played with him and he was her most favourite toy.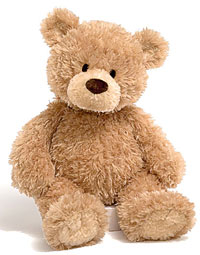 As years passed by Lucy grew and she didn't play with poor little Fluff anymore. Even all the toys didn't like him anymore because he was quite dirty and torn as Lucy had used him for a long time. So, poor old Fluff sat near a corner.
He felt very lonely and sad.
One day as Lucy's mother came to the playroom to sweep she saw Fluff sitting by the corner. She thought that Lucy wouldn't want a dirty torn teddy bear so she kept him on a cupboard next to a window and went into the attic to fetch an empty box
to put all the old toys like Fluff.
Suddenly a strong wind blew into the playroom and Fluff fell from the cupboard onto the windowsill and then right into a bush outside in the garden. It was raining heavily and poor old Fluff got wet.
He was having a very bad day.
It was getting dark. Suddenly a voice called from behind a tree.
"Oooh! My wings! How will I get to Tinker woods?" It was a fairy who had badly hurt her wings by the rain.
Fluff hurried to the tree quite
frightened. He was surprised to see the fairy as he had never seen one before. "Hello, my name is Fluff. What's the matter?" asked Fluff curiously. "My name is Silver-mist. I've hurt my wings badly and I won't be able to reach Tinker Woods before dark." replied the fairy. "Don't worry, I can help you to go before it's too late," said the kind-hearted teddy bear helping the fairy to get up. "Thank you very much. You are a kind and helpful teddy bear," said Silver-mist glad to have someone.
Tinker Woods was about a mile away from Lucy's house. The fairy gave directions to the woods and Fluff carried the fairy there. There were many
Chestnut trees. The little fairy and Fluff came to a small Chestnut tree which had a little door which was closed tightly.
Suddenly the fairy began to sing a very strange and enchanted little poem.
"Abra-cadabra magical door,
Open as quick but not too slow,
Open, oh open, before it's late,
Abra-cadabra, magical gate."
Suddenly the door opened and both of them went inside. There was a crowd of fairies who were very busy but they began to stare at Fluff when they saw him. Silver-mist introduced Fluff. "This little teddy bear helped me to come home as I had hurt my wings," said the fairy smiling at Fluff.
The fairies then realized that Fluff was kind, and after they gave him a good wash and sewed him up, he looked as good as new. Fluff felt very happy and thanked the fairies.
Fluff told them his story. Silver-mist who was kind and generous decided to let Fluff stay with them forever. Everyone treated him well and Fluff felt very happy and didn't feel lonely anymore.
Priscilla Rambukkange (10 years)
Hillwood College, Kandy