MRCP, FRCS and PhD
View(s):

My readers will, I trust, forgive me if today's headline reads like the brass plate of a highly qualified medical specialist.
In the old days before Sri Lanka established its own Post Graduate Institute of Medicine, all medical specialists in this country had to obtain specialist qualifications from Britain. Physicians obtained the qualification MRCP (Member of the Royal College of Physicians) while surgeons qualified as FRCS (Fellow of the Royal College of Surgeons). In order to obtain a specialist's post in a government hospital, a doctor required either an FRCS or an MRCP as an essential qualification.

Unfortunately in our country over the past decade, important posts in the government appear to have been especially reserved for people who had a special kind of MRCP or FRCS. During the Rajapaksa regime, you had to be an MRCP (one of Mahinda Rajapaksa's Catchers and Pandankaarayas) to be appointed to important posts. Like Sajin de Vass Gunawardena, you did not need a degree or any qualification – you just needed to be one of these special MRCPs.

After Mahinda was defeated and Maithripala was ushered in we expected an era of paalanaya by yahapath rulers. Unfortunately, once the old MRCP characters lost their influence, we saw a new set of MRCPs – Maithripala and Ranil's Catchers and Pandankaarayas.

Interestingly, some of Mahinda's loyal Catchers seemed to easily transfer their loyalty and convert themselves into Maithripala's Catchers – and found themselves richly rewarded. But Yahapaalanaya also bred a new breed of fortunate specialists. After 2015 it became the turn of the FRCS crowd (Former Royal College Students) to get their hands on the plums of office. Whether it is Finance, Trade, Highways, Public Enterprise, Development Strategies or any important post in the inner cabinet, the President seems to have his choice limited to these FRCS types. While Mahinda Rajapaksa trusted only his kith and kin, Ranil Wickremesinghe seems to repose his trust only in his old schoolmates.

So it was refreshing for me this week to learn of the appointment of Dr. Indrajit Coomaraswamy as the new Governor of the Central bank.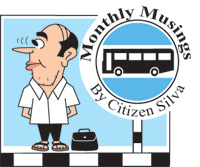 The Central Bank of this country, established in 1950, is one of the great institutions of this country. It has had a long history of distinguished governors, from renowned economists like the American John Exter (who was its founder governor) and Dr. Warnasena Rasaputram (one of the Central Bank's first graduate recruits) to respected civil servants like Sir Arthur Ranasinghe. These were leaders of whom the institution and the country could be justly proud.
Sadly during the last decade, those appointed to the post of Central Bank Governor fell somewhat short of maintaining the bank's reputation and credibility. First, a politician Nivard Cabraal – whose greatest claim to fame was that he was the accountant of the Renuka Hotel – was catapulted into the office of Governor by President Rajapaksa. When Cabraal resigned following President Rajapaksa's election defeat, he was followed by the appointment of a Singaporean economist Arjuna Mahendran (who just happened to be the son of one of Ranil Wickremesinghe's close associates and supporters within the UNP, Charlie Mahendran).
While Cabraal travelled to St Kitts in the West Indies in 2011 to make – unsuccessfully – a bid to host the Commonwealth games (at a cost of Rs 760 billion to the country, according to the present Minister of Finance), Mahendran stands accused of leaking insider information to his son in law Arjun Aloysius – allowing Aloysius' firm Perpetual Treasuries to make a profit of over Rs.300 million within a week as the result of a controversial bond offer.
Men of integrity like Exter and Ranasinghe must have been shuddering in their graves!
So it was with a sigh of relief this week that I heard of the appointment of Dr. Coomaraswamy – a Cambridge educated economist with a PhD from the University of Sussex who started his career as a junior staff officer at the Central Bank in the seventies. Not only did he have a distinguished career overseas at the Commonwealth Secretariat (from where he retired as a Deputy Director a few years ago) but he had an enviable record as a sportsman in this country, playing rugger for Sri Lanka and captaining the national team.
At his inaugural speech earlier this week, Dr. Coomaraswamy reminded the staff of the Bank that a captain is only as good as his team. However well reputed a captain is, he cannot succeed if the team does not work well together – and conversely, however talented the players of a team are, they will find it difficult to succeed if the team is not well led.
Dr. Coomaraswamy prudently stressed the importance of striking a balance between politics and economics. Sadly in our country, politics has often trumped economics – but if one intelligently considers this situation, good economics actually results in good for the body politic.
As a rugger fan I have watched Dr. Coomaraswamy playing his guts out for the national team, taking on and tackling huge opponents (like Bosuns from Britain and solidly built Japanese ruggerites). He will need the sort of courage he displayed on the rugger field to tackle the issues facing our economy – as well as some of the political heavyweights who might try to push him around.
Citizen Silva is pleased with the choice of new Governor – and takes this opportunity to wish this young man well as he undertakes the task of restoring and upholding the credibility of our nation's Central Bank.