Write on, say these writers
Louis de Bernières, Rohan Candappa, Peter Grimsdale and Stephanie Calman who are here for the two-day literary event, 'Words on the Mount', that ends today,talk about their experiences as authors with Purnima Pilapitiya
View(s):
"Just keep writing". It may sound clichéd, hardly a profound piece of advice, but for acclaimed writers- Louis de Bernières, Rohan Candappa, Peter Grimsdale and Stephanie Calman, it's the best nugget of advice they can offer, and probably the hardest to follow. Here for "Words on the Mount" a two-day literary event, it is still possible to catch the authors at the hotel for their late morning/ afternoon master classes at the Mount Lavinia Hotel today.
Louis de Bernières needs little introduction. The British writer first came into the limelight four books into his career with "Captain Corelli's Mandolin" winning the Commonwealth Writers Prize.  Whether it is remembered by A/L students as a school text or the 2001 film starring Nicholas Cage and Penelope Cruz, the novel has quietly established itself as a contemporary classic and a pivotal book in de Bernières' career. "I can't get away from it," he shrugs.
Much like the foreign setting of "Captain Corelli's Mandolin", many of de Bernieres' stories take place around the world, a tribute to his own family's travels. Interestingly, the first book of his 2015 trilogy, "The Dust that Falls From Dreams" ends in colonial Ceylon. He first visited Sri Lanka five years ago but his relationship with the island rewinds back to his grandparents in the 1920s. "They came here as planters," he explains, which formed the basis for the trilogy. During WWII, his mother would return to Ceylon to serve in the Royal Navy, carrying with her a notebook in which she made notes about her stay in the country. Seated comfortably in the lobby of the Mount Lavinia hotel, de Bernieres' own notebook sits close to him on the coffee table.
Although he never received formal training in writing- "I've never gone for a writing class" he believes he grew up in an artistic home. "My father used to write poetry," and his younger sister would take on the role of his first editor for his early scribbles. "One of my teachers told me to read from all over the world," he says and with an armada of knowledge behind him, he confesses, "I'm easily influenced," falling in love with and learning from different styles of literature.
For de Bernieres', reading is essential in order to discover and develop one's style of writing. "You can't write a thriller if you don't read one," he says pragmatically. Unassumingly, he does little to romanticize the life of a writer. "I usually write very early or when everyone is asleep" – for the simple reason of having to attend to his young children during the day.
"You need to have faith," he adds. His decision to become a writer was one he was certain of by the time he was twelve. But it was only in his thirties that his dream would see first light. A schoolteacher when he first began, it took him a long time to find his writing voice. "A good book has to give you something- intellectually and emotionally." Candid about his first novella and early works which he continually developed over time, the only good way to write, he reveals is to write for pleasure. "I write for myself," he smiles.
Suspense and humour are two of the harder genres to master. But tackling the subjects at their master classes today will be writers Peter Grimsdale and Stephanie Calman. The couple had successful careers writing in television before finding their niche in writing thrillers and humorous fiction, respectively.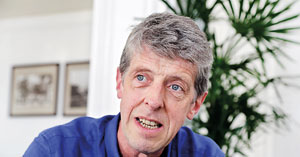 Born into a literary family, Calman who has authored over five books and is the founder of the successful www.badmothersclub.com grew up with a "funny" family. Her father, a political cartoonist was a major influence in her career. As a teenager she dabbled in improvised theatre with the Anna Scher Theatre where she met notable comic actors such as Andy Serkis . Her husband's family on the hand, she tells us had "proper jobs". The two balance each other off in a typical ying-yang fashion. They shrug off the myth of a writer's life, the same as de Bernieres. "Peter even writes on the train," she reveals. She, on the other hand needs her cup of coffee before starting her writing ritual.
Grimsdale's career as a television journalist brought him to Sri Lanka in 1984. During his stint, he kept a journal which years later would be the base for his first novel- "A Perfect Night". The idea to switch careers had been at the back of his mind toward the tail end of his career in television. "I felt like I had done everything I could with my job," he reflects quietly. Although he had written and won a few short story writing competitions in university, his writing career started from scratch.
Although "A Perfect Night" is based on Grimsdale's diary, he realized while writing it that most of his initial content would go unused. "I didn't know I was writing a thriller when I started," he admits. After having spent most of his adult life writing factual stories, writing fiction was a refreshing change for the author. But it's also made him realize the need for writers to balance their passion for certain material against the practicality of their novel. "It sounds very pretentious," but he isn't new to harsh criticism and the need to constantly re-mould his work. He remembers the first draft of his second book which his agent spent an entire hour critiquing and rejecting as Grimsdale sat in front of him, taking it all in. "But I went back, " he recounts, waking up at three a.m. to rewrite the whole thing. "It's best to just let your ideas run," adds Calman, recalling a piece of advice her mother once gave her.
Before becoming a writer in the 90s', Calman tried her hand at acting. Vivacious and uninhibited with her opinions, she is sure that her picture for the paper will do her dramatic mouth justice. Growing up with frizzy hair unlike the sleek, blonde actresses who were required, she discovered her own appeal in her self-deprecating, relatable sense of humour. "I always looked like the odd one out," she says, ruffling her short wavy hair.
For Rohan Candappa, his ability to laugh at himself became a form of self-defence and helped shape his identity while growing up in England. Born to a Sri Lankan father and a Burmese mother, Candappa's upbringing as a second generation immigrant has had a great influence on his novels over the past 18 years. His brand of humour goes back to his childhood where he would be one of the few 'brown' kids in school. "I knew I would get bullied about it," he smiles, but he took control of the situation and his sense of humour also became his identity.
When he lost his job in advertising, there was the opportunity to make writing a career. "I had always wanted to write," he says. Yet, with 18 successful years behind him he has yet to accept his status as "a writer". "I write," he tries to explain himself. Looking back at his journey he feels that age has shaped his idea of success. He now sets his own goals. "I really like meeting people now." Back in Sri Lanka after 25 years, his young family will be joining him next week. He remembers visiting once when he was 14, watching his father's relationship with his friends and knowing "that I had a connection with Sri Lanka, I just couldn't feel it then."
Over the past 18 years his best review, he describes, was a post he saw online. "This lady had read my book and enjoyed every bit, just before she went in for chemotherapy," he says. For Rohan Candappa, a good book is just that- "to know that what I've written means something to someone." For him, the formula for writing is simple. "Find the joy in the process," he smiles.
Today at Mount Lavinia Hotel
Today's session of Words on the Mount will see Master classes for adults and young writers conducted by these four writers  and local writers including Lal Medawattegedara, Shehan Karunatilaka and Ashok Ferrey.
There are also workshops for children conducted by writer and illustrator Nicholas Allan.
Entrance is free.