Clutterbuck in Ceylon
Richard Boyle writes on a 19th century British traveller whose illustrated account of Ceylon is captured in his book, About Ceylon and Borneo (1891)
View(s):
"They say that there used to be a seashell somewhere along the coast, but one afternoon a native man picked it up and gave it away, now there is nothing to disturb the peaceful serenity"  - Walter  J.  Clutterbuck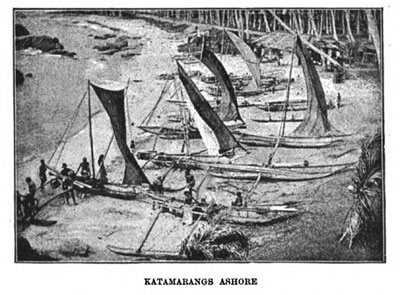 Walter John Clutterbuck (1853-1937) was born into a wealthy family from the English county of Wiltshire. As a young man he was a creeper at Claverton Estate, near Castlereagh. He then developed a passion for travel and photography, which he successfully combined. He wrote Three In Norway By Two of Them (1882) with JA Lees, one of the most frequently reprinted travel accounts of Norway and the inspiration for Jerome K. Jerome's evergreen Three Men in a Boat (1889).
There followed B.C., 1887: A Ramble in British Columbia(1888) also co-authored with JA Lees; The Skipper in Arctic Seas (1890); and lastly About Ceylon and Borneo; Being an Account of Two Visits to Ceylon, One to Borneo (1891 & 1892), which is considered a primary source, an important historical artifact of Asian history and culture.
Clutterbuck was a talented pictorial photographer influenced by Robert Demachy, a leading exponent of the style. Clutterbuck's Physiographe Stereo Camera, made by Edmund & Leon Bloch in Paris, and sold in England as "Watson's Stereo Binocular", enabled him to catch his subjects unawares. These cameras do indeed resemble binoculars, but examples are rare today.
In a letter from the 1920s, Clutterbuck explains the advantage of using this bizarre camera: "The cameraman escapes suspicion of his wicked intentions by gazing innocently through it at right angles to his subject, the lenses being on the side. Thus the old man goes on chuckling and smoking, the women gossip, the children play, the marketer bargains, all unaware of the fact that you are carrying away those records with you."
The Bloch brothers also produced cameras in the form of a book, cravat, briefcase and a monocular. The late-19th century saw a profusion of such hidden or candid cameras, which may broadly be categorized as detective cameras although few were employed by sleuths. Most were used by voyeurs.
In Photography in Japan 1853-1912 (2013), Terry Bennett informs readers that he discovered a Clutterbuck album of photographs taken in Okinawa in 1898-1899 when few involved in the nascent art had ventured there. "All the images are representative of life on the island, and include images of the people, street and village scenes, ships and boats, houses, potteries, paper-makers, market stalls, tombs and cemeteries."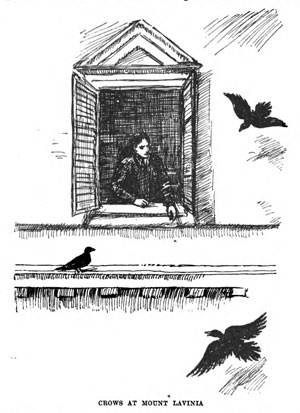 The mystery of Mrs Cameron's photograph
However this article concerns About Ceylon and Borneo (1891), which exhibits more of the author's sketches than photographs, probably as it was early in his photographic career. Clutterbuck begins the book by informing readers that his first trip to Ceylon was in 1877 (aged 24), and that reminiscences of this trip would be combined with a record of his second visit in 1889.
There is a revelation at the end of the first page that is significant in the history of photography. Clutterbuck, who, as will be observed, adopted a humorous and deadpan style of writing, overstayed his welcome at his planter-friend Douglas's bungalow at Claverton in 1877. "I left behind a collarless flannel shirt and a photograph of Mrs Cameron's, representing a young lady in a gauze turban, apparently suffering from sea-sickness, having evidently just remarked she wished she was dead. There was much pathos in this picture."
Pioneer photographer Julia Margaret Cameron and her husband Charles Hay Cameron of the Colebrooke-Cameron Commission (which assessed the administration of Ceylon), retired to Kalutara in 1875, just two years before Clutterbuck's photographic loss, and four years before her death and burial at St Mary's Church, Bogawantalawa. Being a nascent photographer, in possession of such a portrait so difficult to acquire, and making comments that might be humorous but could have been gleaned from Cameron, it is quite possible Clutterbuck met her.
From the description, the photograph appears to have been of a passenger, probably recently disembarked at Galle or Colombo, definitely not one of Cameron's photographs of the simple women of Kalutara. Douglas would not have realised the future artistic and financial value of the photograph Clutterbuck left behind, and would not have fixed it to a cabin wall to admire. It was probably one of Cameron's lost Ceylon portraits. Wikipedia states: "Almost none of Cameron's work from Ceylon survives".
Residence at Mount Lavinia
Most of the early chapters regarding Ceylon (the book is roughly split 50/50 between the two islands) describe upcountry travel, tea estates, tea, and the planter's life. These are subjects written about at length in late-19th century and early-20th century colonial literature, and Clutterbuck adds little; indeed he often exasperates with his racism and racist terminology, particularly his constant reference to the Ceylonese as "niggers".
Of greater interest is a couple of chapters concerning a residence in Mount Lavinia at what must be the Mount Lavinia Hotel, which is strangely unspecified by the author yet easily identified by his descriptions and one of his drawings. As importantly, there is much information regarding Mount Lavinia itself and the vicinity.
Clutterbuck begins: "What a sweetly pretty address this place has! It is 'Mount Lavinia', Dehiwala, and the only other postmark my letters had on them was 'Oalkissa' [Galkissa]. I should think from reading this address that it must be a second-rate heaven in disguise.
"It is a pretty promontory, lying about nine miles [14km] from Colombo along the sea-coast, and jutting out into the ocean away from the unbroken forest of cocoa-nut palms. If you would come to it on one of those cold east-winderly days in England, you would think it quite a paradise on earth."
Clutterbuck mentions that "the ground round the hotel is covered with a kind of course grass, which makes it look green and bright right down to the sea". Atop this green hillock "a former governor of Ceylon [Sir Thomas Maitland] built a villa; it is a handsome building, and stands about 50 feet [15m] above the sea. It is a large well-built house and makes a capital hotel, so close to the sea that you only have to step out of the door, walk twenty yards down the green slope, and you come to the rocky coast against which the boundless Indian Ocean continually dashes.
"To the right and left of the promontory stretches a sandy beach with cocoa-nut palms growing right down to its edge, and the roots growing into the sea. These sands look attractive from a distance, but are not really agreeable to walk on, for they are soft and allow one's feet to sink in at every step, making a journey over them most fatiguing."
Apart from the sand, Clutterbuck had an issue with the shore between Mount Lavinia and Colombo, it being "perfectly flat and a trifle uninteresting". He continues enigmatically: "They say that there used to be a seashell somewhere along the coast, but one afternoon a native man picked it up and gave it away, now there is nothing to disturb the peaceful serenity of that vast expanse, which stretches away to Colombo."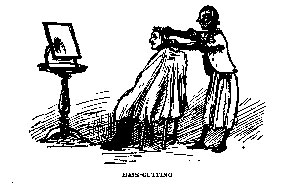 It is of interest that Clutterbuck stayed at the Mount Lavinia Hotel during the construction of the first major extension, the Colonial Wing. "By looking out of my window I could see the works going on. The Singhalese contractor was Alus Appoo. There were a number of Tamil women at work on the new building. They were mostly employed in carrying basketloads of sand, for making mortar, from the shore to the works. Many of them had one or two babies with them. All the women talked and scolded the whole day through."
Clutterbuck devotes several pages to crows, providing examples of the bird's intelligence and behaviour: "Supposing I opened my window at Mount Lavinia and threw out a morsel of food, at once ten or twelve crows came flying around. They came from distant lurking places amongst the debris of the new building [the Colonial Wing]. I think that they can see a bit of biscuit right through a brick wall."
One morning a Sinhalese 'hairdresser' visited him at the hotel "and performed on my head. This gentleman had devoted his life to the science of barbery. He was then getting old, but had certainly not attained perfection in his art. I dare say he found this foreign and barbaric occupation uphill work, as the Singhalese never cut their hair, except perhaps once a year. However he pushed on manfully, slicing people's chins and making terraces of their back hair daily for his daily bread."
Special curiousity was shown in the uniforms of those in the service of the Ceylon Government Railways: "The porters wore a most becoming costume – viz., a suit of blue serge, jacket and breeches, with a red cloth sash tied around their waists, and a kind of smoking-cap, all of serge, to protect their heads. They thought themselves great swells got up in this way, and most of the porters in and near Colombo affected the English language. They all carried white cotton umbrellas, to keep their clothes dry in the rain and keep up their dignity with when the sun was shining."
So far I have resisted quoting a Clutterbuck "nigger" reference, but I must provide at least one example of this negative aspect of his writing to enable a fair evaluation of his work: "There was a sort of head porter at every station who wore a white belt in addition to his other garments, and altogether clothed himself in haughty superiority. His belt hung over one shoulder and around his body. I noticed one day, when I went to Colombo, that the head man at the Fort station carried in his hand a linen handkerchief with a border of lace around it. Imagine a nigger and a railway porter with a silk handkerchief."
Clutterbuck does not seem to have possessed much of a seaside disposition for he claims "There was very little to amuse a visitor at Mount Lavinia. He had either to eat, sleep or do nothing. These pastimes palled on one after a while. It was comparatively easy to kill the morning when one was fresh and capable of understanding anything, but towards midday when everything is parched in heat, life seemed almost unbearable.
"In the evenings things freshened up a bit. Fellows came back from Colombo with the latest home telegrams. You had news from London of your mother-in-law's death, or other incidents which brightened up your future. Then there was dinner to be eaten, and the temperature fell a few degrees, which made life more bearable."
The text of About Ceylon and Borneo can be viewed at: https://catalog.hathitrust.org/Record/001869690