Sharing spaces with books and coffee
By AnneMarie De Silva
Coffee Bean & Tea Leaf partner with British Council Library to open a café in the 'tech hub' of Orion City
View(s):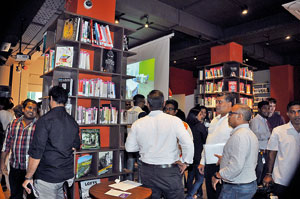 Over the years coffee and tea have become staples in the lives of both students and professionals; helping them meet deadlines, stay up late or simply just get through the day. Coffee houses have been known to be the favoured meeting places of some of the greatest writers, philosophers, scientists and entrepreneurs the world has ever seen. Previous centuries saw coffee houses bringing people together to brainstorm, share ideas and debate.
An ice blended coffee and a fascinating book is a welcome escape from the dusty pavements and scorching hot sun down Baseline Road, Colombo 9. Coffee Bean & Tea Leaf (CBTL) have paired with the British Council Library  to offer a refuge for those who enjoy a good book with a cup of coffee or tea at Orion City.
In this day and age of change and innovation, CBTL has adapted to meet the needs of different customers around the world.  Not only can you hold meetings or catch-ups in their café, you can start-up your laptop, plug in your earphones, connect to the free WiFi and simply isolate yourself from the outside world while you study or race against time to meet deadlines.When you decide to take a break, there is a PlayStation console and screen to help you de-stress.
Established in California in 1963 by founder Herb Hyman, the CBTL is known for providing great coffee with tailor-made blends and roasts for their customers. There are 20 different varieties of tea, hand-plucked and hand-blended under the direction of CBTL's tea master. They offer 30 different types of coffee that consist of the world's top 1% of Arabica beans.
Director and CEO of Orion City Jeevan Gnanam shared that, "this collaboration is very much in the spirit of what we believe is the future of knowledge-sharing spaces in Sri Lanka."
The British Council's Country Director Keith Davis expressed his delight at being part of the partnership. "This is a time when libraries are being reinvented – as convening spaces, providing access to the highest quality print and digital resources in an informal and welcoming environment, together with good coffee and other refreshments and we are at the forefront of this 'Library Revolution'," he said.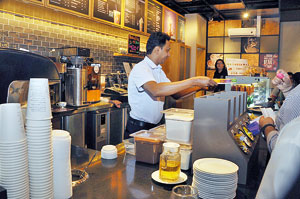 The casual California-style layout of the café is designed to be your home away from home.With free WiFi and a great selection of books, magazines and newspapers, this café will cater to your every need. The café also provides meeting rooms and can host private events that can accommodate up to 125 people. It also provides an outdoor smoking and socialising terrace.
If you aren't a big coffee or tea-drinker, you can tuck into the food. The cakes and pastries are baked in-house, every day. Some of the best-selling items on the menu include wraps, sandwiches, an all-day breakfast and their recently added gourmet pizza and burgers.
The Chairman of Coffee Bean and Tea Leaf in Sri Lanka Roman Scott explains that "our vision is to create Colombo's version of the great 18th century coffee houses of Europe. Stocked with books, fuelled by caffeine and patronised by the great minds of the day, they were the ultimate catalyst for creativity and innovation. Our hope is that this space will become the second home not just for Orion City's 'tech talent,' but for all of Colombo's thinkers, writers and dreamers."