President responds to widespread protests: VAT relief for the people
View(s):
Ministers told to cancel overseas visits, go to their electorates and solve people's problems
Sirisena accuses media of being heavily against the Govt, takes measures to strengthen control over SLFP
CBK also enters the fray, calls for sacking of top members of 'Joint Opposition', but dissidents form shadow Cabinet while Rajapaksa waits in the shadows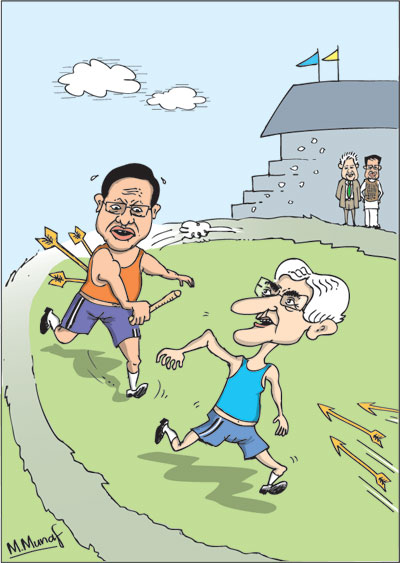 By Our Political Editor
Countrywide protests over living costs, the result of the increase in Value Added Tax (VAT), appear to have spurned the Government into action. President Maithripala Sirisena was to initiate a string of measures after Tuesday's weekly ministerial meeting where issues arising out of this situation figured prominently. He told ministers that they should put on hold overseas visits, return to their electorates and counter the fallout from the protests.
For a second time this month, President Sirisena was responding to growing public opinion. It was only a week earlier, he heard civil society activists. The move led to the change of Central Bank Governor Arjuna Mahendran. The President picked Indrajit Coomaraswamy to succeed Mahendran.
A new trend with the advent of the United National Front (UNF) Government has been the proliferation of protests over different issues. The exercise seemed to have shades of the Arab spring, the uprisings that spread across West Asia in early 2011. Those in the Government say it showed tolerance on their part when the previous Mahinda Rajapaksa administration used brute force to suppress such protests. This is true though the self-congratulation itself is now pyrrhic. The protests highlight something significant – growing public discontent over mundane to serious issues. It reflects non-action or more pointedly less governance. Thus, Sirisena's initiatives show the Government could no longer sit on its laurels and take delight that it has created new space for protests. To the contrary, yahapalanaya or good governance would have ensured there was little or no room for protests.
A sampling of such protests against VAT alone just this month: Western Province – July 7 – Panadura, Negombo, Maharagama, Kiribathgoda, July 8 Ja-ela, Kalutara Southern Province – July 7 – Tangalle, Hungama, Beliatte, Walasmulla, Weeraketiya, Katuwana, Middeniya, Elpitiya, Tissamaharama, Hambantota, Suriyawewa, Lunugamvehera, Ambalantota Uva Province – July 8 – Wellawaya Central Province – July 8 – Kandy Sabaragamua Province – July 7 – Kuruwita, Ratnapura, Balangoda, Opanaike, Nivithigala, Godakawala, Kalawana, Ehaliyagoda, Kiriella, Rakwana, Asgama, Weligepola, Kegalle, Embilipitiya, Udamaluwa Wayamba Province – July 7 – Kurunegala Eastern Province – July 8 – Ampara. The United National Party (UNP) staged a counter protest in Ratnapura on Thursday. Protests in other provinces including one's mentioned here have been held in late June too. If they were backed by the 'Joint Opposition', the Janatha Vimukthi Peramuna (JVP) also launched a string of protests for six days. It will end today.
Besides agitation against VAT, there were other protests too. From dawn Friday, residents at Kosgama blocked the High Level Road demanding the promised compensation for the damage caused by the Salawa armoury fire. "They came to console us, made promises and went back. We are still waiting," said a state service officer who did not wish to be identified because of the sensitive job he holds. His house and personal belongings were destroyed by the devastating fire at the Army's Central Armoury last month. Then, along the rail track in the southern coastline, fishermen halted trains. They demanded that the Government fulfil an earlier promise to blast rocks near the shore to allow easy passage for their boats into the deep seas. Train services were disrupted. Students of the Sri Jayawardenapura University continued their protests in Nugegoda on Friday.
An adverse fallout of all these protests is the diversion of Police resources to cope with them. This is at the cost of other tasks related to maintaining law and order. Added to it is the inconvenience caused to the people as a result of traffic interruptions during peak hours.
Preceding Tuesday's discussion was a meeting President Sirisena and Finance Minister Ravi Karunanayake had with a group of traders. These traders made clear they should not be viewed as anti-Government. All they had sought, they said, were revisions in the VAT to help both themselves and the consumers. Karunanayake acknowledged that the traders had helped Sirisena in the campaign for the presidential election on January 8 last year. He said they should be aware that the VAT then stood at 11 per cent and it has now been raised to 15 per cent. Later, President Sirisena had discussed areas where the VAT could be revised to exclude some sectors and include some new items. Different proposals including a possible revision in petrol prices are also being looked at. A formal announcement of the revision is to be made this month.
Discussions also extended to the cost of living which has further skyrocketed after the new VAT. It was decided to appoint a ministerial subcommittee to examine and recommend ways of reducing the prices of essential consumer items. In this regard, the team is to study the pricing structure resorted to by importers. This is to determine whether their profit margin could be pruned. The ministerial team comprises Karunanayake, Mahinda Amaraweera, Duminda Dissanayake, Malik Samarawickrema and Rishad Bathiuddin. Sirisena has advised MPs going to their electorates to report back to this Committee any suggestions they could offer.
Ministers also discussed on Tuesday moves to expedite different development projects, a means of providing employment. They noted that there were inordinate delays in procurements arriving in Colombo. This was despite such procurements being put through after a duly appointed Tender Board had examined them. It was decided to study the matter and take corrective action.
It was only the previous day (Monday), President Sirisena told the Government Parliamentary Group at a meeting at the Presidential Secretariat that he would not allow anyone to disrupt this administration. There would neither be an SLFP nor a UNP Government. He asserted that the present national unity Government would be protected. He said parliamentarians must be mindful that the media were not with them. He alleged that they (the media) were weighted against the Government. He was critical of the state run newspapers. Prime Minister Ranil Wickremesinghe who spoke next criticised the Sunday Times. He said the newspaper had asked him whether there was a tug of war between President Sirisena and himself. The Premier said he had replied that there was no such tug of war or Kamba adilla since there was no kamba or rope in the first place. Like Sirisena, he spoke in Sinhala.
People's woes were not the only issue for President Sirisena. He was also concerned about an issue which he has been dealing with since assuming the Presidency. That was taking fuller control of the Sri Lanka Freedom Party (SLFP), His party stalwarts have been briefing him on the new developments that called for responsive action. Sirisena discussed the issue with Minister Mahinda Amaraweera, General Secretary of the United People's Freedom Alliance (UPFA). Later, Amaraweera held a meeting of several senior members at his residence to discuss strategy. Two main factors seemed a cause for concern. One was steps taken by former Minister Basil Rajapaksa to launch a new political movement. Senior SLFPers believe it is a precursor to the launch of a new political party, perhaps when the local government elections are due. The other was the United National Party (UNP) launching a membership drive. The UNP has gone hi-tech by introducing a new app for this purpose. Senior SLFPers were worried that their party would be politically dwarfed by these developments.
This saw SLFP Deputy Ministers and State ministers holding a meeting at the Colombo Hilton last Wednesday night to discuss counter measures. Speaking at length was former UPFA General Secretary Susil Premajayantha. He noted that despite protests that would make it seem that the Government is unpopular, they were far from being in a position of facing defeat. After a lengthy discussion where several spoke, they decided that the SLFP should launch its own campaign in the districts to consolidate the party's position and counter moves to split it. The first public meeting in this regard will be held in Kandy. Though several venues were suggested for subsequent meetings, no decision has been taken.
Another dimension to this development is the former President Mahinda Rajapaksa's role in the 'Joint Opposition'. It is becoming increasingly clear that he has restrained himself from getting too involved. He did not sign their Vote of No-Confidence on Finance Minister Ravi Karunanayake. Now, he has distanced himself from a so-called 'shadow cabinet' named by the 'Joint Opposition'. It is noteworthy that Rajapaksa has not involved himself in news releases issued by them. He is known to have prevented a group of MPs supporting him from going back to the mainstream SLFP fold. The idea, as one ally points out, is to keep his options open until the proposed political movement gains ground paving the way for a new party.
Serious concerns over the future of the SLFP also reached former President Chandrika Bandaranaike Kumaratunga. She met SLFP parliamentarians at the Heritance Hotel in Ahungalla on Tuesday. She said there were moves to divide the SLFP and the 'Joint Opposition' was part of that attempt. In a strong speech, she said former President Rajapaksa and six others – Dullas Allahapperuma, Kumara Welgama, Prasanna Ranatunga, Mahindananda Alutghgamage, Rohitha Abeygunawardena and Bandula Gunawardena — should be sacked from the party. She said this was the only way the SLFP could be strengthened. Minister Mahinda Amaraweera, however, struck a sober note. He said that the political circumstances were not appropriate for such a course of action. He cautioned that such a step would lead to other issues and they must act with greater circumspection. The participants decided to seek a meeting with President Sirisena and discuss the situation further.
Mahinda Rajapaksa, who is at the centre of concerns in the SLFP, is set to travel to South Korea. Preparations for the visit, which will include meetings with Sri Lankans there, are under way. Like in any coalition, there are marked differences between partners on serious issues. This is by no means to suggest that such diverse positions would automatically lead to a breakup or one can be perceived as anti-government for pointing them out. Last Monday, Foreign Minister Mangala Samaraweera told a news conference that consultations were taking place to determine the character of the accountability mechanism to probe alleged war crimes in accordance with the UNHRC Geneva Resolution against Sri Lanka. This is to ascertain whether it would be domestic or should include foreign judges.
Just one day later, President Maithripala Sirisena responded to the remarks. Though he did not make a pointed reference to Samaraweera's statements, Sirisena declared that he would not allow any foreign court, judge or organisation to interfere in the internal administration and the judiciary. "This is not withstanding whatever views are expressed in various places regarding bringing of foreign judges and establishing foreign military courts to take action against the so-called human rights violations during the period of the war," he declared. He was speaking at the 70th National Upasampada Vinayakarma (Higher Ordination) ceremony of Sri Lanka Ramanna Maha Nikaya in Panadura on Friday.
That Sirisena has said a firm 'no' to foreign judges is all too well known. His most recent comments came in an interview with the Sunday Times. He said: "We don't need foreign judges. We can resolve any problem within the country without foreign intervention," the President re-iterated commenting on his previously declared position. "If necessary we can obtain foreign technical support but without commitments or conditions attached," he said. Sirisena added, "any technical assistance to the proposed inquiry into alleged war crimes would be without any commitments or conditions attached." Prime Minister Ranil Wickremesinghe also told a group of Army officers on May 26, "the judicial mechanism would be made up entirely of Sri Lankan judges."
Samaraweera's remarks came after he returned to Colombo from Geneva where he attended the 32nd sessions of the UN Human Rights Council. The issue did figure during his meetings with counterparts and senior officials from member countries. On Wednesday, the Brexit notwithstanding, the House of Commons discussed human rights in Sri Lanka. Several MPs whose electorates consisted of Tamil voters were to raise issue. Hugo Swire, Minister of State, Foreign and Commonwealth Office, responded. Noting that the issue of "international involvement in the prosecution of war crimes has been highlighted," Swire said "the British Government has always been clear that any accountability mechanism needs to be credible and meet international standards. …..we have re-iterated our commitment to its full implementation on a number of occasions, most recently in Geneva last month."
As noted previously, there has been less 'diplomatic sabre-rattling' over the issue of foreign judges though UN Human Rights High Commissioner Zaid Ra'ad Al Hussein and some speakers made strong references. The issue will be on the Government's agenda for next year. It would thus have to be weighed in the context of the prevailing political situation then. Naturally, the question whether even local judges could constitute such an inquiry mechanism comes to the fore. One of the factors likely to impact on this aspect of the resolution is the November elections in the United States, a co-sponsor of the UNHRC resolution. This is particularly in the event of a victory for likely Republican candidate Donald Trump though some argue US foreign policy will not change with the change of the president.
The US position will no doubt be in focus when Nisha Biswal, Assistant Secretary of State for South and Central Asia, arrives in Colombo on Tuesday for a three-day visit. Immediately after she leaves, Russian Foreign Minister Sergei Lavrov will arrive. Besides bilateral talks, Sinhala speaking Lavrov is expected to declare open Russia's newly built Embassy along Bullers Road. He previously served in the Soviet Embassy in Colombo. Thereafter, Japanese Defence Minister General Nakatani is due followed by the Canadian Foreign Minister Stephane Dion. These visits, no doubt, are a huge task for the Foreign Ministry which usually copes with just three or four such high-profile visits each year.
China's Foreign Minister Wang Yi surprised Foreign Ministry officials in Colombo just a week ago when he sent a message that he wanted to visit Sri Lanka. He is the highest ranking Chinese dignitary to visit Colombo since the UNF Government took office and questions were raised why he was coming over. It later turned out during talks with Foreign Minister Samaraweera that it related to bilateral issues. The Chinese were keen to ensure that the projects they had committed themselves to in Sri Lanka under the Mahinda Rajapaksa Administration and were stalled got off the ground. At the end of the talks, one source said, Foreign Minister Wang mentioned China's position on the South China seas. The Philippines, with whom China has a dispute, has gone to the Permanent Court of Arbitration in The Hague to ask for a technical ruling about the extent of the territorial waters that can be claimed on the basis of the possession of various coastlines, islands and rocks. A ruling is expected soon.
During the post-talks media briefing, the lady Chinese interpreter translated the remarks made by Minister Wang to say China understands Colombo's stance on the South China seas and Colombo supports Beijing's position. Li promptly intervened and corrected her to say Beijing understands Colombo's stance and asked her to delete the words supports. In fact, Foreign Minister Samaraweera had told the Chinese Foreign Minister that the issue should be resolved through dialogue and discussion which is Sri Lanka's position. Before departing Colombo yesterday, Wang paid a visit to the Kelaniya Raja Maha Viharaya.
Another issue where there were strong differences of opinion between the SLFP and the UNP resurfaced this week. This is when the joint ministerial council of the two sides met to discuss common issues. The SLFP side expressed the view that they were strongly in favour of electoral reforms being introduced in Parliament as the 20th Amendment to the Constitution. However, the UNP members were not in favour. They said there were three major elements that should be incorporated into the proposed new Constitution. They were the devolution of power, the abolition of the executive presidency and electoral reforms. There was a lengthy discussion but no settlement was reached.
The SLFP members of the Joint Council are ministers Sarath Amunugama, Anura Priyadarshana Yapa, Susil Premajayantha, Lasantha Alagiyawanna and Mahinda Amaraweera. The UNP is represented by ministers Kabir Hashim, Ravi Karunanayake, Malik Samarawickrema, Akila Viraj Kariyawasam and Sagala Ratnayake. The two sides also discussed how the local government bodies should be administered. The SLFP sought a bigger role. The imposition of Business Turnover Tax (BTT) by local authorities also came up for discussion.
The Joint Council discussions came as the Steering Committee involved in the constitution making process met Chief Ministers. They gave their own views on how the local government institutions or the provincial councils should be structured in a new Constitution. Among those who turned up were Northern Provincial Council (NPC) Opposition Leader S. Thavarasa and Provincial Education minister Thambyrajah Gurukularajah. The latter represented Chief Minister C.V. Wigneswaran who has been admitted to the Cardiology Unit of Jaffna Teaching Hospital following a brief illness.
They made an oral presentation based on the constitutional proposals prepared by the NPC. Earlier, a set of reform proposals adopted unanimously by all sides in the Council had been handed over to Premier Wickremesinghe, Speaker Karu Jayasuriya and Opposition leader R. Sampanthan. This was done by Chief Minister Wigneswaran.
Mr. Thavarasa said he elaborated why the NPC had recommended for a merged North and East with a federal structure. He said they were seeking land and police powers. He said it was proposed that a special arrangement be made to accommodate the Muslim majority areas in eastern provinces to the federal structure.
When NPC Opposition leader Thavarasa was explaining the shortcomings of the 13th Amendment, Megapolis and Western Province Development Minister Patali Champika Ranawaka intervened to comment that the '13thAmendment was imposed on us." Thavarasa had replied that the Constitution is the supreme law of the country and argued that personal opinions of any citizen were only a comment.
Premier Wickremesinghe also chaired a separate meeting of the UNP ministers and later addressed a meeting of their MPs on Thursday. The all UNP ministers meeting which took place at the Parliament Complex in Kotte, saw a lengthy discussion on how to take the party forward. Wickremesinghe emphasised the need for a proactive programme for the next four years. Several proposals in this regard were discussed. A five-member team of UNP ministers was tasked with preparing a programme to educate the public of the progressive measures taken and their future plans. The five ministers are Harin Fernando, Gayantha Karunatilleke, Mangala Samaraweera, Kabir Hashim and Akila Viraj Kariyawasam. Premier Wickremesinghe who briefed UNP parliamentarians at 'Temple Trees' on Thursday evening also told them that they should be prepared to ensure the victory of the party at the next local government elections. The Premier answered a variety of questions posed by the MPs.
References in these columns on June 26 that exports to EU exceeded three trillion dollars and UK a trillion dollar should really be in billions of dollars, Finance Minister Ravi Karunanayake said. He told the Sunday Times the exact volume was now being worked out.
Quite clearly the ongoing protests have had their result though not in all areas. One area where the UNF Government is still found wanting, an issue that has caused concern among most MPs, is the snail's pace at which action against those involved in bribery, corruption and other crime during the previous regime is moving. If the Government leaders are to convince the public on their bona fides, there is only one way they could do so – ensure the machinery works faster and as promised the culprits are brought to book. The credibility gap is ever widening.