Four soldiers forced to work for ex-officer's sordid guest house
View(s):

The Commanding Officer of an Army unit is in hot water after he failed to recall four soldiers attached to a retired Major General.
The fact that these four soldiers were 'working' in a guest house owned by the retired officer, who served in key locations, came to light when Army Commander Lt. Gen. Crisantha de Silva received a telephone call.

The caller, one of those who were 'deployed' at the Guest House in the outskirts of Colombo said he and his colleagues were being forced to work on things which were below their dignity. It was alleged that the guest house had been rented out by the hour to young couples.

Lt. Gen. de Silva directed the Military Police to arrest the four soldiers and later a court of Inquiry was appointed to probe the incident.
---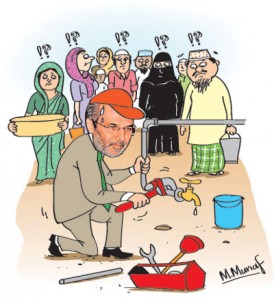 Muslims blame Hakeem for waterless Eid
In the Greater Colombo area, most Muslims, like their brethren all over Sri Lanka, ended their 29th day of fast in the Holy month of Ramadan last Tuesday. However, they were an unlucky lot.
They broke fast at dusk. Within an hour they heard the good news that the next day, Wednesday, would be Eid ul Fitr, an important religious event observed worldwide. It marks the culmination of the holy month of Ramadan. The moon had been sighted in the east coast obviating the need for fasting for a 30th day.
They also heard the bad news that in some areas there would be prolonged water cuts. The taps ran dry by Tuesday evening. The reason – a main pipeline feeding a distribution tower in Ratmalana had burst.
Sri Lanka Muslim Congress Leader, Rauff Hakeem, under whose purview the National Water Supply and Drainage Board operates, was on state radio expressing regret over the unexpected breakdown. He said by dawn there would be water on the taps since additional work teams had been deployed.
Some who waited till dawn to cook their festival breakfast and lunch found there was no water. Crowds formed outside supermarkets and shops and bottled water was soon sold out.
Thus, Eid was a troublesome day for many who had to go without a bath or were unable to cook a meal. They queued outside catering outlets only to be told that biriyani was cooked only after orders were received, and stocks had run out.
As promised, the water did come on taps. However, that was on Wednesday night. Though the water cut was unexpected, for most households Mr. Hakeem was not a favourite name last Wednesday among his community. They argued that they should have been given some time to store water whilst others said the minister in charge, who also heads the SLMC, did not keep to his promise.
---
Police chief preaches bana at FCID, CID
Police Chief Pujith Jayasundera perhaps created a record this week. During his first visit to the Financial Crimes Investigation Division (FCID), he spent nearly four hours talking to the staff there.
Thereafter, he moved over to the Criminal Investigations Department (CID) headquarters and spent three and half hours there.
IGP Jayasundera not only inspected the premises, spoke to officers and men. During his talk, he quoted at length from Lord Buddha's teachings and asked his men to follow them.
During his first official visit to the FCID and the CID, former IGP N.K. Illangakoon did not spend more than half an hour each in those headquarters.
---
Yahapalana champions seeking privileges
They were once forerunners in civil society organisations. They held placards high during demonstrations on the values of not only good governance but also financial discipline.
Now that the United National Front (UNF) Government is in power, they have ensconced themselves into new positions and enjoy the perks of office. That seems to be not enough, at least for some.
One such activist who championed the cause of unity and found himself a position as a member of a commission which has a lot to do with voting and votes.
He has written to President Maithripala Sirisena asking that he be allotted an official bungalow in Colombo from where he could attend to his duties.
---
Unhealthy trend in huge health tender
Most ministers have been speaking of eliminating corruption, particularly when it comes to government tenders.
Recently the Health and Indigenous Medicine Ministry and the Kurunegala Teaching Hospital had placed an advertisement calling for the supply of Homium Laser for Urology – 20 Watt machines. The deadline for the submission of bids is next Wednesday.
But prospective bidders were perturbed to see that the technical specifications required in the bidding document were identical to those of a manufacturer whose product is displayed on its website.
They have noted that the bidding document was different to those published by other government hospitals in the recent past.
They are now awaiting the outcome of the tender to see if their guess will be confirmed.
Monitor monitors his better half
The once powerful jack of all trades who was asked to monitor everything local and foreign under the previous regime may be under probe for different reasons.
But that has not deterred him from conducting his own probe, of all things, on his other half. He fixed a tracking device on her car to monitor her movements. A nosey detective found out details of the operation. Of course that part was not official and doesn't come under his investigations on the monitor.
---
PC caught robbing medicines worth half a million
At Police Headquarters, Police Chief Pujith Jayasundera was convalescing in an upstair room after surgery.
Down below, a police constable was caught red handed when he was robbing medicine worth more than Rs. 500,000.
Investigations had revealed that the constable had been in the habit of stealing medical supplies. In his neighbourhood, where his new lifestyles had been noticed, the constable had said that he won a sweep ticket. The prize money was being paid to him in instalments, he had said.
---
Confusion over politico's secret foreign account
A Gampaha District politico, now indicted for bribery, caused some confusion to banking authorities in an island nation.
He had a secret account, one that was without local authorisation. At first, the bank had assumed that his name was that of a private company.
It took the bank a while to realise that he was a single person and one who had strong links to petroleum deals.
Insiders say that this politico was also serving as a front for a senior type and was in the habit of parking assets abroad.