Govt. to meet traders tomorrow following anti-VAT protests
By Sandun Jayawardana and Wasantha Chandrapala – Ampara Correspondent
View(s):
A series of protests aimed at pressurising the Government to withdraw the Value Added Tax (VAT) increase on retail and wholesale trade appear to have jolted the Government with President Maithripala Sirisena publicly stating there will be more revisions to the VAT soon
Retail and wholesale traders taking part at countrywide demonstrations denounced the increase of VAT to 15 percent and the decision to lower the threshold for taxable revenue under VAT to Rs.3 million a quarter or Rs.12 million a year.
Shops were closed as anti-VAT protests were held in Kiribathgoda, Nittambuwa, Kelaniya, Warakapola, Kantale, Ampara and Seru Nuwara this week. In the last two weeks, protests were held in Galle, Badulla and Gampaha.
The Sunday Times learns that the Finance Ministry has called for a crucial meeting tomorrow between senior government officials and traders' associations.
In view of tomorrow's meeting, a protest that was to be held in Kandy town on June 29 was postponed.
Kandy Sinhala Traders' Front leader Newton Peiris said they were not opposing the VAT, but the haphazard manner in which the Government increased the VAT, causing chaos.
He said only a small number of traders in Kandy town were taxpayers and maintain tax files. But he charged under new regulations, more traders would come under the tax net, but the Government had not taken any measures to educate them regarding how the tax system would work.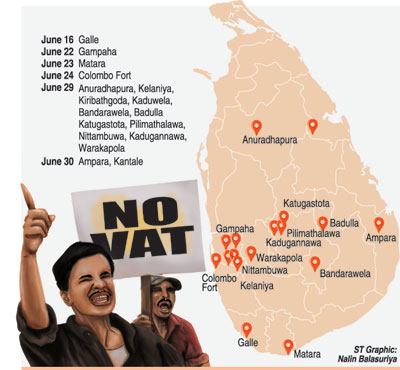 Endorsing his views was Ranjith Withanage, Chairman of the National Movement for Consumer Rights Protection, an organisation that backs the traders' anti-VAT protests. He said people seeking private health services were being hit hard by the VAT increase, resulting in prices of laboratory tests going up and patients being compelled to pay tens of thousands rupees more for operations.
Bakery Owners' Association President N.K. Jayawardena said all bakery products except for bread were hit by the VAT. "It's a huge problem and is heavily affecting our businesses."
While supporters of the protests claim they are not politically motivated, traders such as Pettah Traders' Association President K. Palaniandy believes otherwise.
Mr. Palaniandy said he resisted calls by some of his own association members to join in the protests because he believed some people were trying to use the protests to further political ends.
"Yes, there are problems, but I don't believe shutdown as a mark of protest is the solution," he said. Mr. Palaniandy asked why these people were silent when taxes were imposed by the previous Government.
The latest anti-VAT protest was held in Ampara town on Thursday.
When the protest began in the morning, a group of United National Party (UNP) supporters led by Eastern Provincial Council Chairman Chandradasa Galappaththi also arrived at the scene.
He told journalists that the protests were politically motivated and claimed only a small percentage of the traders in Ampara would come under the new VAT net.
Ampara traders, however, continued their protest. A heavy police presence was visible throughout Ampara town amid fears that the standoff between the two groups could lead to clashes. Protestors lit fire crackers and jeered at shop owners who did not take part in the protest. However, the protest ended peacefully.