ANEY FOR SUNDAY (JUNE-19-2016)
View(s):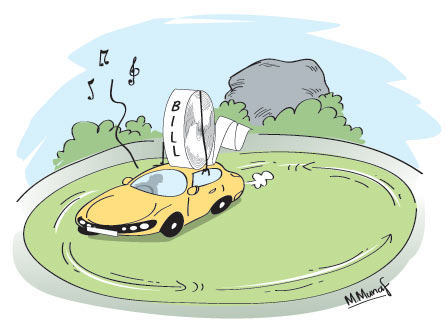 THE THUMPING BILL
Grounds are built at terrific costs. Maintaining them is another problem and that too is a terrific cost. One such ground in the outstations is causing a parent body a big headache. To see that it is properly maintained and repaired the parent body had recruited a so called expert. This 'expert' takes a trip to the ground in a vehicle belonging to the parent body, keeps it over the weekend and brings it back when the weekend is over and hands over the vehicle with a thumping bill! This has been going on for quite a spell and the chances are that it will continue for some time too until the ground is completely ready. The question is can the parent body continue paying this fat bill and for how long?
DODGING THE MEDIA
Two drivers who had won an event, were reluctant to speak to the press as they were not permitted to take part in the event as they were to proceed to Old Blighty on a separate tour. They dodged the media because the fact that they had taken part in the event when they had been told to NOT to take part in other events because of the impending tour!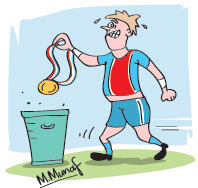 NO FOREIGN PLAYERS
Bad behaviour by players at a certain function following a big football clash is the talk of the town. A player who was selected to win a medal was called to the podium, threw it away, because he was on the losing side! The coach of this team has a bad reputation and it looks as if it has spread to the players. Because of this the association who is in charge of the sport has decided not to allow foreign players in the competition next year.
FINAL 15, WHEN?
A sport popular with the ladies is not releasing the names of the final 15 players to take part in a foreign tournament next month. Even the skipper, who had led the team Down Under at a world contest, has been dropped from the tour. It is said that certain officials are trying to get this former skipper into the team once again. Until then the final 15 to make the tour remains uncertain.
WAITING FOR THE HUBBY
The lady, who is a new employee at the headquarters of the very popular sport, is practically doing nothing there. She is said to be drawing a very fat salary as well. She gets transport to and fro from the organisation she is now employed and what's more she is waiting for her hubby too work in the same organisation as well!