One month after the deluge, aid on slow gear
By Sandun Jayawardana
Officials say all possible assistance being given to flood victims but admit resources diverted following Salawa inferno
View(s):
One month after the devastation wreaked by adverse weather in the country, about 5,000 persons displaced by floods and landslides continue to remain in temporary camps. While the Government insists all possible assistance will be given to the victims, officials have also conceded that their efforts have been hampered to an extent due to resources being diverted to Salawa after the explosion caused at the Army base.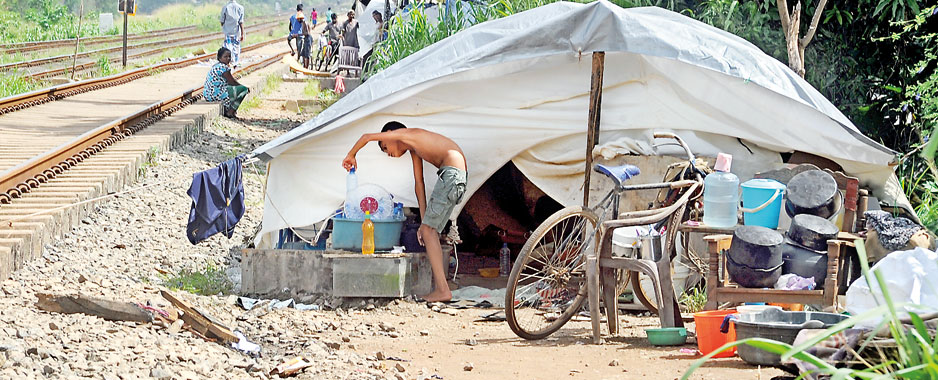 The Colombo and Kegalle Districts bore the brunt of the fury of the weather, with one having to deal with floods and the other affected by deadly landslides. While the situation in Colombo has now stabilised, many of those displaced by landslides in Kegalle continue to languish in camps.
Colombo District Secretary Sunil Kannangara said the majority of those displaced in the district due to the adverse weather have now returned to their homes. There were however, 40 families comprising 188 persons still being housed at a welfare centre set up at the Umagiliya grounds in Kolonnawa. Mr. Kannangara said all necessary arrangements had been made to look into the welfare of these people.
He insisted that officials had taken every possible step to ensure that aid was distributed quickly and adequately. "We kept distributing dry rations to the affected. We distributed aid that came through the Disaster Management Centre (DMC), including foreign aid. Our officials also took charge of relief items delivered by members of the public and various volunteer organisations and distributed them among the affected," he said.
Nalaka Niroshan from Kelanimulla was one of the thousands from the Colombo district displaced by last month's floods. He told the Sunday Times that most people from his area have now returned to their homes and have also been able to clean them. Grama Niladharis have been active in distributing aid to affected people, he further noted. "The garbage issue however, is still a problem for people in the Kelanimulla and Kohilawatta areas," he observed. Mr. Niroshan stated the Pradeshiya Sabhas have been far too slow to remove garbage from these areas.
The Sunday Times learns that officials have completed most assessments of damages caused to property in the district. Mr. Niroshan though said while officials have indeed assessed damages in their areas, people were yet to receive any compensation. "We hope it will be done soon. In any case, it'll be several months at least before people here can properly get back to leading normal lives."
In the Kegalle district, where two devastating landslides occurred at Aranayake and Bulathkohupitiya, 3,065 persons from 1,004 families continue to remain in 41 welfare camps as of last morning, according to figures released by the DMC.
Aranayake had the largest number of displaced victims, with 1,717 persons from 607 families continuing to be housed in 11 temporary camps.
Kegalle District Secretary Abeywickrama Wanasooriya said the 11 camps in Aranayake were at locations such as temples, Government owned buildings and a number of Muslim schools, which are currently closed on account of Ramadan.
He said officials have allowed those living in areas that aren't listed as having a high risk of landslides to return to their homes. "We can't however, allow people to go back to areas that have been classified as high risk areas for landslides, even if their homes are intact," he explained.
The Government is scouting for lands where those displaced could ultimately be resettled, Mr. Wanasooriya stated. The long-term plan is to resettle all of the displaced in permanent housing outside the landslide high risk zones.
"For the moment, we are temporarily housing many people in large tents that we have received through the DMC as part of foreign aid contributions. These tents have room for several beds. Many families are thus able to stay together in one tent."
The District Secretary added that the tents also had electricity through solar panels, while water was being provided by officials.
Mr. Wanasooriya said the request had been made for 1000 of these tents for the district. The tents had been received as part of an aid package from the Chinese Government. Only 500 had been delivered by the DMC however, with the rest having to be rushed to Salawa to house those displaced by the explosion at the ammunition storage facility on June 5. The District Secretary acknowledged this was an unexpected setback, but added it was understandable, conceding "they too need assistance at this time."
He stressed that Government officials were currently seeing to the everyday needs of the people. Accordingly, food, medical care and sanitary facilities were all being provided. "But our main focus is currently on building permanent housing for these people. In that respect, we would be extremely grateful to organisations or volunteers who come forward to assist us. The lands we can find, but we will welcome any assistance to build the houses," Mr. Wanasooriya noted.
DMC Assistant Director Pradeep Kodippili said the centre was continuing to provide aid to affected persons through the District Secretaries in the affected areas. He stated that the Government would also be able to compensate for 'some' of the household properties that were lost due to the floods and landslides. Exactly, how this process would go forward was being discussed, he added.
Do not evade but do your duty by the people, warns RaviFinance Minister Ravi Karunanayake on Friday (June 17) said that some public officials had shirked their responsibility in implementing decisions taken by the Government following last month's natural disasters and the explosion at the Salawa Army camp.

It is a serious matter if Government officials are trying to find excuses by taking cover behind Government circulars and thereby avoiding responsibility at a time the people are hit by such disasters, Minister Karunanayake said in a statement..

The Government will not allow the inefficiency on the part of public officials to further disrupt the lives of disaster affected people, the minister warned.