Happy Father's Day!
View(s):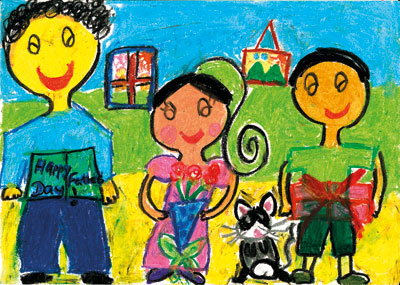 Rivini Cooray (8 years)
Bishop's College
---
My father's name is Muditha.
He lives in Horana. He is 40 years old. He is a businessman. He went to Horana Royal College. His hobby is riding the bicycle. He has one son. His favourite colour is blue. He likes to eat apples.
He is a very kind man. I love my father.
Duleth De Silva (9 years)
Lyceum Int. School
---
My father's name is Ranjith.
He is 43 years old. He has two
brothers and one sister. His
mother's name is Prema. His father's name is Weerasinghe. He likes to eat mango. He likes to drink orange juice. I love my father.
Pabasara Weerasingha (Grade 3)
Vidyartha College, Kandy
---
My father's name is Askar Ali Khan. My father is an ideal person in my life. He helps me in my difficulties. My father is a businessman. He is very smart and intelligent. He is the head of my family and teaches me how to lead a healthy and happy life. 
My father comes home at 7pm and spends time with us. He always clears all of my doubts. When he comes home from the office he brings chocolates, fruits and stationery for my brother and me.
He takes us out of the house every Saturday to the park or other favourite places. We all get together and do lots of fun activities. He always loves spending time with us in his free time. My father works hard to look after the family. My father has taught me to swim. He always teaches me the right path.
I thank God for giving me such a loving father. I wish my father a long and healthy life.
Amra Askar (Grade 7)
Buddhist Ladies' College
---
The value of Fathers'
From the time we came to this world,
To the very present day,
A special someone is there by your side
Who helps you in every way.
He'll help you with your homework,
He'll go with you to play,
'Bless my little boys and girls',
is how he prays each day.
As young and kind children and
selfless mothers
Let's all get together to show our
great fathers'
Our gratitude and appreciation
With a small but great Father's Day celebration!
So show your silent hero your care and concern,
With their love that you cherish and their trust that you earn
To every single father around the world
May this Father's Day be forever
revered!
(Dedicated to my late father…)
Misha Miskin (Year 6)
Horizon College Int., Malabe
---
 My father's name is
Aflal Gaffoor. He studied at
D. S. Senanayake College and the Colombo University. My father likes to eat Maggi noodles. He is thin and tall. My father takes me to school every day. He is a hard worker.
He enjoys watching cricket matches. He never forgets to read the newspapers. My father is a director. He likes to drink Fanta.
He wears spectacles for reading.
He takes us to Independence Square for cycling. He is very kind.
My father is a strong man.
My father loves me so much and
I love him too.
Aamina Gaffoor (6 years)
Royal Institute Girls' School
---
My father's name is Namal Prabash Wickramasinghe. He is 40 years old.
He is a businessman. His shop is in Colombo. His favourite colour is red.
His favourite food is rice. His favourite vehicle is the car. He loves us a lot.
Nethul Wickramasinghe (7 years)
Wesswood College, Katugastota