Natural disasters controlling good and evil
View(s):

We believe in good and evil. While enjoying happiness some forget from where it originated. When they are in trouble and sickness, they go behind soothsayers. Those who show us the correct path are but a few in this world.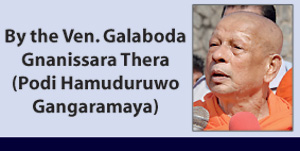 Once I had an opportunity to visit Bangalore in India, along with a group of devotees. Since there was an air crash at the time, we had to take a bus ride from Chennai. We went on this trip to meet Sai Baba. The bus journey was long. The bus driver and the guide said, "If Sai Baba has power to make so many people who are suffering happy, why is he not doing so?" Nobody who went with me wanted to take part in the discussion, but we reached our destination safely. I broached this topic to show that we have little or no idea of happiness and pain.
The eightfold path preached by the Lord Buddha applies to everyone searching for both profitable and unprofitable living or for fame or ruin. When we understand this we can live, in spite of our difficulties. The floods that came were like the tsunami. Though only a few lost their lives, still thousands lost their wealth and belongings. We were given a chance to help and reestablish the lives of these people. We stopped the Dansal given during Vesak and gave dry rations instead to affected people while collecting a large quantity of roofing sheets. We received a large stock of roofing sheets from Museaus College. I am giving details here of other benefactors who helped.
Though we believe in our destiny, the world is governed by circumstances beyond our control and we must always remember that we have to stand on our own feet. The greatest gift that we had from our parents is our upbringing. Our worldly wealth is but limited. Even if we are lucky if the times are bad, we cannot enjoy life to the full. We must remember these facts and at a time of want or need we must rise to the occasion. When troubles confront us we must help those in need with compassion and kindness. The recent misfortunes took place for no fault of those who were affected. This is due to natural causes and the negligence of certain individuals. If due to these, some were affected, it is up to everyone to come forward and help.
Implementing the Buddharashmi programme for Vesak, we announced that roofing sheets would be made available throughout the year to those in need. During this time the floods came. The IGP and Police have given all their support for this distribution. They have submitted to us a complete list of those whose roofs were damaged and had no access to drinking water. This is an appeal on behalf those who have suffered. If one family buys one roofing sheet, that will be of great help. I give below a list of benefactors who have helped us in kind. Even without their knowledge I am giving the details to show everyone that there are people who are willing to help.
These include, Museus College, Mallika Home, Yohani De Silva, Ravindra Nanayakkara,
Amarangani Nanayakkara, T Wanigaswekera, I/D/E/A/S, Chndrani Perera, K G D Damayanthi, Asoka Wickremaratne, Doctor Nalini Vithana, Jinadasa Illangasinghe, Doctor N V Jayatilleke, Jayantha Abeygunawaedane, S Nissanka, President's Council Ananda Wijesekera, Seevalie Ratwatte, S K Nagodavithana, Channa Pandithage, Bandaratilleke familyI Munasinghe, D Ranasinghe, S A Seneviratne, C. Hewavitharana, Anoja Karunarathne, M Upul Suraweera, G Amarasinghe, Lalana Amerasinghe, P B Yatawara, L T Dombagoda, Kapila Siriwardane, British Language Centre, Mohan Saparamadu, T Ambanpola, H Punyasena, U H Palihakkara, Gamini Perera, Associated Electrical Corpn, S P G C Senadeera, A G Enterprises Ceylon Ltd, G R Jayatilleke, Mahen Dayananda, P Vaidyasinghe, Buddhi Keerthisena, W Dayarathne, Dr N De Silva, Dr D Subasinghe, Mahinda Samarasekera, Cheryl Samarasekera, Nipuni Samarasekera, R Rathnayake, Malini Dharmasiri, N P De Alwis Samaranayake, M R Wickremasinghe, Chintha & Iiny Samat, Dr I P Nanayakkara, Rupa Perera, H G Nimal Amerasekera, Sadevi Vittachchi, G R Jayatilleke, Leslie Athukorala, P R Deshani, Splst Dr Upul Wijewardene, Rienzie Wijetilleke, Dinuja, N E D Gomez, M P Udayasiri Perera, M P De Silva, R Wijewardene, Irangani Wijewardene, E M S Bombuwala, B Ginige, Shanika Vitharana, K A S Gunesekera, Chithra Ariyarathne, D B Gamage, Raja Korale, Girlie Gunadasa, Sajeewa Dissanayake, Varun Oshantha Vithanagamage, S Herath Guneratne, L D Nanayakkara, Champa Nagahawatte, N P Kumarasinghe, Newton Gunaratne, L H L A De Silva, Ayesh Fernando, Ishani Fernando, Sarojini De silva, Manel Fonseka, Channa Pandithage, H Gunarhilleke, A Ratnayake, Amarahewa Julige, A Vithanage, K Jinadasa, M P Molligoda, A Dangalla, Chec Port City Colombo (Pvt) Ltd., M S A Samsudeen Development & reality (Pvt) Ltd., M M Noorbhoy & Co. Ltd., P M Godamune, Dr Ishani P Nanayakkara, Lilamani Perera, Prema Serasinghe, Veena De Silva, Farook Saleem, Wimal Dias, Ranjani & Mangali Jayasuriya, Amitha Kelegama, A D R Kumarasinghe, Dr A M C J Attanayake, Mahinda Weerakoon, G V M De Silva, K Rohana Priyantha, Upali Wijetunge, Rupa Weeratunge, Kantha Lankathilaka, Nimala Rohini Waravitage, D W Pemaseeli, W G sumanawathie, H M M Bandara, Asoka L Rathnajeewa, Wayamba Advertising Pvt Ltd., S P Sirimanne, A M C M Jayasekera, W M P Wijerathne, D P Nanayakkara, M R R Wijayawardene, Hasitha Sahan Senanayake, M Malani, L Marasinghe, Sindhi Assoviation of Sri Lanka, Inoka Srimanne, A D W Kularunge, N W S Nanayakkara, J M D Saranapala, Ananda Panapitiya, A D W Kulathunga,
On Friday and yesterday a jade diamond embedded statue of the Lord Buddha was kept for veneration at the Gangaramaya temple. This statue is similar in nature and weight to the one at the Thai Royal palace. Today, it will be taken to the Kaluthara Bodhi premises and then to the Sanctuary of the Urumuththa village on the Bopagoda road in Akuressa. Tonight and tomorrow, it will be kept for veneration at the Gangaramaya Pilgrims Rest, Katharagama. All donations received will be routed to the roofing sheets programme to provide relief to those who were affected by the recent floods. I am inviting all people of goodwill to join in this meritorious deed and help everyone who has suffered.
Ven Galboda Gnanissara Thero, Podi Hamuduruwo,Gangaramaya,
61, Sri Jinarathana Road, Colombo 02 .